Cordes en Folie
Dateline: 11/12/99

Cordes en Folie is a World Fusion band. Here is a feature from earlier in the year about the related band ASZA.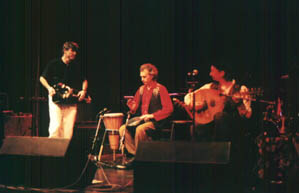 Vancouver, Canada, is a multi-cultural city. So, it's no surprise that a band like Cordes en Folie would emerge from this cosmopolitan mecca. Combining European and Middle Eastern musical styles and instruments, the band consists of Pierre Imbert on hurdy gurdy (or, vielle a roue as it is known in French), a musician originally from Lyon France. André Thibault is originally from Montreal and a renowned flamenco guitar player, who is also skilled on the oud (Middle Eastern lute) and percussion. Steve Lazin is a percussionist with a jazz, pop, and blues background who made the leap to World Music a few years ago, formally studying Middle Eastern drumming with local musicians such as Celso Machado and Pepe Danza. Ô Expresso is Cordes en Folie's new album featuring the band's unique World Fusion sound, where vocals meet instrumentals and the Middle East meets Europe.

Cordes en Folie were in Edmonton, Alberta in mid-November as part of the Coup de Coeur Francophone, a yearly cross-Canada celebration of Francophone music and culture. Their exciting performance had the audience clapping and moving along with the vibrant and energetic presentation. I caught up with Pierre, André, and Steve before their show, when they answered my questions about the style, instruments, and musical direction of Cordes en Folie.
---
Paula: You combine a lot of different musical styles and cultural influences in Cordes en Folie -- how did this come about? Pierre: We all play different types of instruments with different types of influences. Everyone brings in his skills, his styles of music, his instruments, so it mostly comes from the musicians first.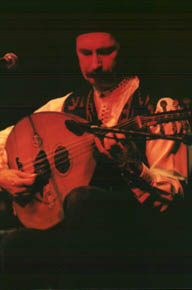 André: Itís like a toolbox. If youíve got a hammer and a saw, you can only do so much. But if you have everything -- screwdrivers and pliers -- then you create an interesting piece. Thatís the case with us. Weíve got an interest in a lot of music. I play with ASZA; I play with a lot of World Music groups in Vancouver. We have a piece in mind and we bring all our skills into the arrangement. Pierre: After the beginning when we first got together, we played and tried a few things, then the concept of the music -- cordes en folie means "crazy strings" -- the musical concept got more focused. Thereís a musical and artistic direction and itís mainly mixing or blending the instruments we play -- the strings with the oud, the vielle; and the percussion.

Next page Musical Styles >Page 1, 2,3, 4

Previous Features