New Sounds
Dateline: 11/12/99

The following albums are on a variety of different Labels. You can buy many World Music CDs online.

Where does classical meet World Music? In Trio Voronezh (promounced Ve-RO-nesh), Russian folk melodies come alive, along with large orchestral works, with creative transcriptions and lively execution. Using traditional folk instruments like the double-bass balalaika (the Russian national instrument), domra (related to the mandolin) and bajan (chromatic-button accordion), the Trio's self-titled album (Angel/EMI) is a refreshing take on Russian music.

heartbeat (Innerspace Music) stems from that central function of the human body. Guitarist and producer Evan Marks creates and whirling jazz atmosphere using percussion, bass, shakuhachi, various flutes, and vocals. But at the backbone of the music is the pulse and rhythm of the heartbeat. After collecting heartbeats, entering them into a computer, and lining up the beats with the music he composed, heartbeat is definitely one of the most intricately produced albums of the year. If the World is really getting smaller, then rual and urban keep getting closer together. On ReRooted (City of Tribes/Fresh Music), musicians, DJs, and producers meld and remix tracks by various South African artists, using modern technogy and traditional indigenous music of the area. Joy Division was a highly innovative British progressive band. The Nàu Ensemble Orchestra, from Sweden, has created "variations" on five tracks from Joy Division's 1980 album Closer on the eternal: variation on joy division (Atrium/Warner). But unlike the rock sound the band was famous for, Nàu Ensemble presents heavy, complex classical pieces that sound far removed from the originals.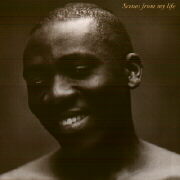 Richard Bona is from the village of Minta in east Cameroon. Performing in public since the age of five, thirty-two year old Bona uses his songwriting to express emotions and experiences which are personal, yet universal. On Scenes from My Life (Sony), Bona, a vocalist, multi-instrumentalist, and composer sings the stories he remembers from growing up in Cameroon, songs like "Dipita" ("Hope") about his Christian faith, and "Messanga," based on a story his grandfather used to tell him about catching a mermaid. Previous Features