Popular Madagascar Band Explores Indonesian Music

Paula: What inspired you to explore traditional Indonesian music?

Hanitra: I didn't explore only traditional Indonesian music; I researched for the history and evidence of the origin of my tribe called Merina and I put the whole discovery into music with traditional indonesian players. But what made me really go was the fact that I saw a documentary film on a traditional ceremony in Sulawesi which looked very much like at home. Paula: What sort of research did you do to learn about the cultures and instruments represented on Soul Makassar? Hanitra: I went to Sulawesi to do the research of my origin, the traditional music which is there, the culture, the rites, the food, how people look, the language, the instruments, the songs and melodies.... I went with an assistant to write down all my feelings and my discoveries during my one month trip; I filmed, took photographs and listened to lots and lots of stories from the older people. Paula: What were you trying to achieve musically and what sort of message are you trying to get across to listeners? Hanitra: I am not setting out to try to achieve anything musically when I write songs, they are just feelings from my heart that I hope I could share to as many people as possible. I have so many messages to try to get across. In particular, I wanted to bring people to my personal trip, to bring them to the awareness of all sorts of problems existing here, there and everywhere.... to bring people to ask questions about themselves; in a way letting people know about certain cultures, traditions and music that exist still. Paula: What is your own musical background? Who are your musical influences? Hanitra: I sang in harmony with my entire family living in the forest from the age of four until I was 25. I had then no other musical influences except whatever I could hear on our one radio station. Our musical influences were the sounds that birds or other animals made around us, and the music that we created or sang by our Grandpa and Grandma. Paula: What is the music scene like in Madagascar right now? Hanitra: Music scene is thriving right now. Lots of traditional music; lots of pop music too. There aren't, however, sufficent infrastructure and help for the local music scene to totally explode and I would like to do something about it.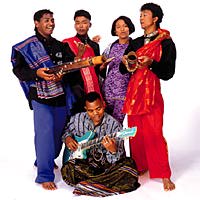 Paula: What does the name "Tarika" mean and why did you choose it? Hanitra: Long story to cut short. Tarika means two things, one it is the root word for "leading" and two, it means "the band." Why did I choose it? By pure coincidence where I had a group called Tarika Sammy before; Sammy left the group and TARIKA remained! Paula: Why do you think it is important to keep musical traditions alive? Hanitra: Because without musical traditions, we are nothing. All our life is in fact based on our culture, our tradion and our music. If we ignore that, we are just busy making money and making children and existing without a strong base to come back to re-energize from. We are much stronger people with it because we know where we have come from so we will definitely know where we are going. Many people without musical traditions that I know of do not know where they are going tomorrow. They are just tired everyday from their work without knowing where they are going tomorrow. And tomorrow includes death.


Next page > Previous Page >