Baaba Maal's African World

Senegalese Performer Baaba Maal Speaks Out About His Homeland

Baaba Maal is one of Senegal's best known and respected performers. For over a decade, his recordings and live shows have brought him audiences around the World, having toured almost every continent.

As a songwriter, Baaba Maal is true to his African heritage both in sound and subject matter. Using traditional African instrumentation and language, he sings about his homeland, the African village life with which he grew up, African identity and various social issues about which he is passionate. One such issue is HIV/AIDS. He is a spokesperson on the issue of HIV/AIDS in Africa for the United Nations Development Program. His contributions to the projects Red Hot and Rhapsody (a tribute to Gershwin) and Red Hot and Riot (a tribute to the late Fela Kuti) are both under the auspices of the Red Hot Organization, an HIV/AIDS awareness campaign group. Missing You . . . Mi Yeewnii (pronounced Me U-knee) is Baaba Maal's latest recording. It has a profound African atmosphere, mostly due to the fact it was recorded in the village of Nbunk, Senegal, during the night. A totally acoustic project, Maal captures the feel of African village life -- even some crickets make their way onto the recording! The eleven songs on the album feature traditional Senegalese instruments, as well as instruments used throughout West Africa. Of course, acoustic guitar, on which the songs were written, is also prominent.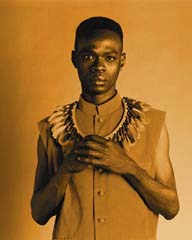 While in London rehearsing for his World-wide tour in support of Missing You . . . Mi Yeewnii, Baaba Maal found the time to give me a call. Among other things, we talked about his musical messages.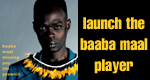 Photo courtesy of Palm Entertainment

Next page > Acoustic Messages >