Russian and Australian Musical Worlds Collide

Russian music meets Australia: welcome to the World of Zulya Kamalova, a noted performer of Tatar music in Australia and rising vocalist on the World Music scene.

Zulya hails from the Volga River region of Central Russia and began performing traditional Russian and Tatar songs at the age of nine. On the advice of a friend, she relocated to Australia in the early 1990's and has integrated traditional elements of Australian music, such as the use of the didgeridoo, with her Russian-flavored songs. Her latest album is Alouki, which features her own songwriting skills as well as contemporary arrangements of Tatar songs, which powerfully deal with the Tatar people's historical struggles: the invasions of the Mongol Khans, Ivan the Terrible, the rise of the Communists. Over the last little while, the attention drawn to Zulya's music has been growing. The song "Saginou" is featured on the Putumayo compilation Music from the Tea Lands. She also was awarded "Female Vocalist of the Year" at the 2001 Australian World Music Awards. "I must have done something right," she jokes.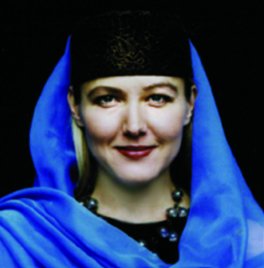 Photo by Steven Wilkinson

Next page > Zulya's Musical Heritage >