The Bostons Pops Hits the Salsa With The Latin Album

Keith Lockhart is a busy man these days. As the conductor of the Boston Pops, he maintains a hectic touring and broadcast schedule for Public Television. The Pops' third conductor in 70 years (the orchestra has been around for 115 years in total), he has been the conductor for five years and seven album releases. The Latin Album (RCA Victor) is Lockhart and the Pops' latest recording, and features traditional forms and styles as well as several contemporary arrangements.

As if that isn't enough, during the Pops' off season Lockhart is the music director of the Utah Symphony. He managed take some time to answer questions about the joys and challenges of working with World Music.
---
Paula: What made you decide to do a Latin album? Keith: At the Pops, part of our mission is to tie in a great orchestra with music on everyone's mind, of the here and now. There has been in this last year or two such a huge re-interest in Latin and South American Music - that happens in this country every 25 or 30 years; it happened in the 50's with Desi Arnaz and Carmen Miranda and it's happened this time commercially with people like Ricky Martin and Christina Aguilera but also for other tastes like Buena Vista Social Club for instance. So generally what we try to do is catch a wave like that and then do something that is unique to the Boston Pops -- that is, take a different kind of look a what Latin and South American Music is all about. Paula: Why do you think Latin Music keeps coming back into popularity? Keith: Because I think that it's absolutely contagious music -- it's the kind of thing that gets under your skin; it's rhythmic; its great dance music which has been a lot of the reason behind the re-interest in it - all of the interest in it all of the times along the century has been once dance craze or another - it's music that makes you want to move, it's music that's close to us - it's music that is part of our continent and in an extended way part of our people.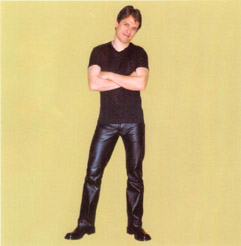 Paula: What were some of the biggest challenges in putting together the project? Keith: The problem always, when we work with musicians from different musical cultures is a question of translation. I don't just mean English to Spanish; it's musical translation issues. We worked with three separate groups of people outside of the Pops for this projects: Mariachi Cobre for the Mexican Mariachi tunes; we worked with a group called Inca Son for the Peruvian traditional Andean folk music tunes and we worked with an Afro-Cuban rhythm section. Everybody who grows up in a musical tradition learns music a little bit differently - we all view rhythm differently; we all read rhythms differently. Some of the musicians we worked with don't read music whereas an orchestra is exactly the opposite: they can read pretty much everything you can put down on a page but are pretty much at a loss when you take the page away from them [laughing]. We're notation bound. A lot of the different challenges involve getting those worlds together in the fast period of time, the pressure cooker that we have to put these things together. Paula: Are you happy with how it turned out? Keith: I am very happy. I do say this every time but I think this is the strongest album I have had the chance to do yet with the Pops. Musically it is very strong and I am just fascinated with the variety of things, of looks, of moods, of sounds that we managed to get onto one album.
Photos courtesy of talkmeup.com

Next page > More with Keith Lockhart >