An Interview

Richard Séguin is one of Québec's most enduring singer/songwriters. His musical career began in the 1960's when he was one half of the duo Séguin, along with his twin sister Marie-Claire.

As a solo artist Séguin gained acclaim for his folk melodies and image-filled lyrics. Even today his music still draws from folk and blues. Last year, Séguin made a rare appearance in Western Canada as part of the Coup de Coeur Francophone, a yearly concert series that involves exchanges of musical acts between Canada's provinces. He performed many of his classic songs as well as material forthcoming from his latest album Microclimat (Musi-Art), which was released early in November of 2000. I had the chance to speak to him in an exclusive English interview about his music and songwriting.
---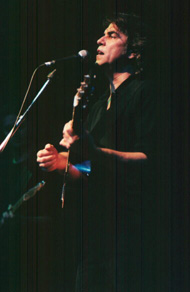 Paula: Is this your first time performing in Western Canada? Richard: No, this is maybe the sixth or seventh time. I used to do a lot of hitchhiking when I just started out. It was the time in the 70ís when you would take to the road hitchhiking, going west, and stopping everywhere. After that we did a tour across Canada playing to all the French minorities everywhere, but big tours, being on the road for two months, traveling with a trailer and stopping everywhere. It was very different because we used to play in the hospital and meet the children in the afternoon and during the night everyone was there. We did that to Vancouver. After that we did a different type of tour with all the band in a very quick time. Paula: Your lyrics are very powerful. Why did you use music as a way of expressing your thoughts instead of writing novels or writing for newspapers.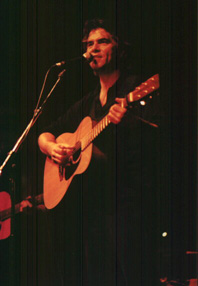 Richard: I donít know. Because a song is the most accessible art for all the people. Itís a very quick reflection of the people around you, the society you live in, and I like that. I grew up in a family where the music was always there. For me, I started with my sister and we were very close together, and thereís no place you can learn how to make songs. You start and if you are good or if you are not. If I didnít have music maybe I would choose painting. I do a little painting, but the song for me, I like in three minutes you describe a little world, a part of your dream.

Next page > More with Richard Séguin >

Photos © 1999 Paula Kirman