Daniel Bélanger in Concert
Dateline: 11/07/97

I've been into French music from Québec for a little while now, and I certainly never thought I would ever see any of my favorite artists live in concert without travelling to Montreal. My videotapes full of footage from TV5 and Radio-Canada would be as close as I would ever come.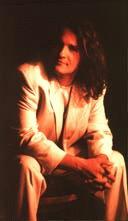 So it hit me by surprise when I found out that Daniel Bélanger would be doing a tour of Alberta in late October. With much help from the French Canadian Association of Alberta, he did a three city tour of the province, which has approximately 80, 000 Francophones (those who speak French as a first language). The shows were eagerly promoted on the local French television stations, radio programs, and in Le Franco, the local newspaper for the French community. Daniel Bélanger is the hottest singer/songwriter on the Québec scene right now, with two best-selling albums, and numerous Félix awards (the Québec version of a Grammy award, presented by the Societ&eacute de L'ADISQ). Only the Sunday before the concert, he won two more Félix awards, for video of the year (for the song "Le Temps Fous") and live show of the year by a singer/songwriter. And I was going to see him in concert that Thursday! When October 30 came along, I was very excited. Myself, and around 300 mostly university-aged Francophones, made our way to La Cit&eacute Francophone, a new French cultural centre built last summer in Edmonton. After a splendid opening set by local artist Lise Villeneuve and her band, the tension built as technical problems delayed the rest of the show by about half and hour. When Bélanger finally took the stage, the audience reaction was overwhelming. Although it was a very small theatre, the acoustics were excellent, and as Daniel launched into an hour and a half set of songs from his first album, the folk tinged Les insomniaques s'amusent and his second, Quatre Saisons dans le Désordre, which has a heavier rock sound. I honestly feel that I can't do justice to Daniel's performance in writing. It may sound cliché, but you really had to be there. Once the technical problems were out of the way, the show went along flawlessly. To understand Bélanger's music, you really need to hear it, and Audiogram (his record company), has an excellent site in French, with audio and video clips. Another multimedia site is Version Française, an English-language online newsletter which is affiliated with a French music CD shop, so if you like what you see and hear, you can order Bélanger's albums afterwards. Finally, if it is lyrics you are after, in addition to the Audiogram site, you can check out Bélanger's entry in the French Music Database, which lists lyrics from many French language artists. It was truly an evening I will never forget, and I hope Daniel Bélanger enjoyed his time in the West and returns in the not too distant future.