Happy 40th, Claddagh!
Dateline: 10/15/99

Claddagh Records is one of the many different World Music Labels. Claddagh is a label specializing in Irish Music.

Claddagh Records was fromed in 1959. Based in Dublin, the label has to its credit five-time Grammy Award winners The Chieftans, as well as poet Ted Hughes, and piper Séamus Ennis. 1999 marks the label's 40th anniversary, and another milestone as well -- Claddagh has entered into an exclusive, long-term North American licensing agreement with The Atlantic Group.

A Real Irish Christmas will be the first Claddagh/Atlantic release, followed by a couple of Chieftans complations. In fact, the band formed especially to record Claddagh's third release, and went on to record eleven albums for the label. Claddagh's goal was and still is to preserve and promote the best of traditional Irish music and spoken word. To celebrate the new partnership between Ireland's Claddagh Records and The Atlantic Group, and reception was recently held at the New York City residence of the Irish Ambassador to the United States. Below is a photo taken at the festivities. First from left is Atlantic Group Executive Vice President/CFO Tony O'Brien, and third from left is current Claddagh CEO Dave Kavanagh.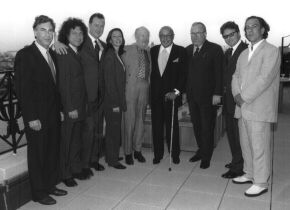 Previous Features