Voice of LittleDeer
Dateline: October 13, 2000

Visit LittleDeer's Web site for more information and sound samples. You can also find more resources for Native American music here.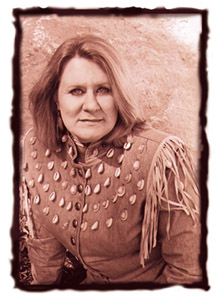 Nominated "Best Folk Artist" at the 2000 Native American Music Awards, Maribeth Theisen's, AKA LittleDeer, music is part of her passion that includes traditional spirituality and the drive towards cultural awareness and understanding. Her album Earth Mother features her songwriting on topics such as pverty and racism -- the latter being an issue very personal to Theisen, having experienced it on both ends of the spectrum. Half Tsalagi, she has experienced being singled out as a Native American, and half European, her blue eyes and blond hair have sometimes made her an outcast among her Native brothers and sisters.

However, being part of two cultures has been of benefit to LittleDeer's musical sound. Not only does she arrange traditional Cherokee songs, but her original compositions fuse traditional Native influences with Caribbean, African, and Middle Eastern sounds.
---
Paula: What are your goals as a songwriter and performer? LittleDeer: As a songwriter, I strive to make my songs sound really different from one another, both stylistically and in terms of subject matter. In addition to what's on the CD, I have gospel, jazz, blues and even a cajun style song. I like collaborating with other writers, who come up with something very different from what I would; the finished product is unique and unlike what either of us would write alone. I find, as a listener, that I get easily bored with writers whose songs sound alike. As a performer, I again like to collaborate with other musicians. While I will perform alone, I really enjoy the energy created by a group of musicians together. I sing with a jazz trio, and every time we perform, the songs are entirely different, even though we've rehearsed them. There is an excitement in being open to new possibilities each time! Paula: What and who are some of your musical influences? LittleDeer: My musical influences are quite varied and probably explain why my songs vary so much from one another. As a child, my siblings were much older, and I listened to rock and roll. As a teen, I got interested in female singer/songwriters, like Joni Mitchell, Carol King, Linda Ronstadt, and Carly Simon. I had begun playing guitar and would play their songs. But I also really liked listening to Led Zeppelin, Cream, Three Dog Night, The Allman Brother, Neil Young, Crosby Stills & Nash, the Beatles and Fleetwood Mac. I started writing songs at age 15, about the time I became focused on spiritual growth. The two seem to evolve in relationship to one another. In my 20's, I discovered Jazz. Flora Purim and Tania Marie, the Brazilian vocalists, became my heroines. I found that Jazz broke all the 'rules' I had developed for myself musically. I tried taking Music Theory classes, voice lessons, and songwriting seminars and became incredibly self-conscious; I couldn't write! So it took awhile to 'throw away' everything I'd learned--especially the voice lessons! The teachers always wanted me to sing high soprano, while I wanted to sound like Linda Ronstadt. I guess I'll never sound like her, or Bonnie Raitt, a more recent heroine, but I still resist the operatic sound that was forced on me! I also found the formulas presented in the songwriting seminars really restrictive. Interestingly, while I again write intuitively, I still end up with some form, so I must have absorbed some of my lessons! In the last decade, I became interested in World rhythms. I fell in love with Gabrielle Roth and Brent Lewis. I really enjoyed the primal feelings their music stimulated in me! I still focus a lot on female singer/songwriters, like Jewel, Alanis Morrisette, Sheryl Crow and Bonnie Raitt. I like Native artists like Robert Mirabal, Bill Miller, Ulali, Walela, and The Redhouse Family. But I also continue to listen to Jazz. Previous Features