Tzimmes
Dateline: 10/02/98

Tzimmes is a Vancouver-based Jewish music ensemble serving up a spicy mix of Klezmer, Sephardic, and Contemporary Jewish music. The band's new album KlezMyriad is gaining attention within Canda and beyond, with its four language: Yiddish, Ladino, Hebrew, and English. I recently interviewed the band -- a very fun task indeed -- and I learned just how dedicated these musicians are to their work.
---
Respondents: Moshe Denburg, Julian Siegel, Yona Bar-Sever, and Myrna Rabinowitz. Discussion took place at the rehearsal room in Julian's house. Paula: How did Tzimmes get together?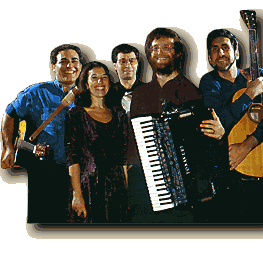 Mo: Basically, the band that exists today got together around 1991. However, the band originally started with myself and some friends in 1986 in Victoria BC, and in 1987 or '88, Julian Siegel, our present Accordionist, who was living in Victoria at the time, joined us. But, Julian and I, not by design, left Victoria in 1990, and fell out of touch for about a year, and then we got back together as a Trio with Yona, in late 1991. Y: I would like to mention that the ancestry of this band started close to 30 years ago, in my apartment in Jerusalem... Mo: That's true. Y: ...where I met Moshe for the first time. We were not just musicians, we were also friends, and we were mostly jamming. I was part of a band that he started a long time ago, called 'The Electric Stage', in Jerusalem. And then 25 years later, back in Vancouver, I reconnected with Moshe. Soon the question of making music together came up. Mo: Around 1987 Yona and I reconnected, on my visits to Vancouver. Yona actually heard Tzimmes, the Victoria version, do a concert at the Gateway Theatre, in 1988. It was Julian and I and Gary Cohen, and Dick Lurie, a"h. Yona was at that concert - remember coming backstage? Y: Yes, yes. Mo: When I moved back here in 1990, it was the year that my father, z"l, passed away. I remember saying to Yona that I wanted to get together with him and Julian just to make some music. I had the same idea that I originally had with Tzimmes in Victoria, which wasn't to make a professional ensemble but just a group of friends getting together and making music, and maybe doing an occasional gig. Yona was a bit nervous about it - we didn't want big commitments, and we didn't know if we would feel comfortable with each other. Y: I hadn't played for a while, I didn't even have a Guitar for a long time. Mo: So Julian called me up, after not being in touch for 8 or 9 months, and says to me (doting Jewish parent with E. European accent), "What is this, you don't call, you don't get in touch?" So Yona and I and Julian got together... Y: In my place I think... J: Yes, yes, it was at Yona's... Mo: ...and a couple of weeks later Yona landed a gig in the foyer of the Gateway Theatre to play for the patrons at the opening of a production of Fiddler on the Roof. This gig kicked off this version of Tzimmes, in November 1991. Actually, Yona got a high price, it took us a couple of years to beat that price. J: And then they asked us back for the cast farewell party, a couple of weeks later. And it was great for us - here were artists dancing and loving our stuff. And we were sloppy! Wow, we were sloppy! Mo: And then, while I was synagogue hopping, saying kaddish for my father, I met Myrna. This was January 1992. Myr: I came to my first rehearsal in January 1992. Mo: I said to Myrna, "Do you want to come? Come and sing a bit, and let's see how it goes." So Myrna joined in January 1992, and soon after that Adel (our Percussionist) joined us. Myrna: We met Adel at Louis Brier (Seniors' Residence), at a Purim gig; we weren't playing together yet. J: Adel was playing Darabuka (Arabic Drum) with an Oudist. Mo: I knew Adel from years back, because I had done some research and study with him. But when did he play with us the first time? Y, Myr, J: (Various opinions) Mo: In 1993, he played with us on our first album, Sweet and Hot, as a studio musician. After the release of the album, he played with us, at a concert at the Vancouver Academy of music, in December 1993. So that's how this group formed. Paula: Who and what are your musical influences? J: I started with Classical Music and early on got into Folk Music, especially Israeli music. After, I started looking into the roots and found myself emulating the Russian and Mussette Accordion styles, and the early 20's and 30's styles out of France, which paralleled the Django Reinhart Guitar tradition. Of course, Israeli is a mixture of Russian, Yemenite, Iraqi, and so on. Yiddish Folk Song actually came later for me. Most recently, I find myself myself more and more drawn to my Latin roots, and to Jazz people like Richard Galiano, and an obscure but great Canadian Jazz Accordionist called Gordy Fleming. Y: My influences are originally Israeli, especially the Yemenite component - Parvarim, Amranim - and the Israeli sound in general. The Rock and Roll sound I got from Jethro Tull, and also from a musician named Hank Marvin of 'The Shadows' - they're about 35 years old. Plus I feel influenced by the Brazilian rhythms, Samba, Bossa Nova and so on. Myr: My influences were, to begin with, Yiddish and Hebrew Folk song. The tradition that has influenced me most has been North American and International Folk. Sephardi music I started to become acquainted with through Israeli Folk dancing, and visiting Israel. But Yiddish was in my home, my roots. In terms of female vocalists, there were Joan Baez, Nana Mouskouri, and also Connie Francis - besides her pop stuff she even did a few Jewish songs. Of course, Barbra Streisand, and then when I got into doing theatre, the songs of Gershwin. The music of the Synagogue, Hazzanut, and most recently Shlomo Carlebach and his nigunim (melodies) really influenced me. Also, I can't discount the rock music of my youth. Y: When you think about it, there are so many influences that we are affected by, there are always new sounds and new singers. I feel I have always loved Folk Music, and I was definitely taken with the music of the Sephardi Synagogue; and also Greek music. Mo: My original influences were definitely the music of the Synagogue and the singing of my mother, who was a professional singer in her time. She loved the Yemenite aspect of Israeli music. Through Israeli music I found a whole host of cultural styles. I was very involved with North American Folk Music - Peter, Paul, and Mary; Bob Dylan - when I was growing up. And the melodies of Carlbach were in me from a young age. In my hippie days I really took to the Beatles, and to good singing groups like the Mamas and the Papas, and Crosby, Stills, Nash, and Young. I have been enormously influenced by the classical music of India, where I lived and studied in the 80's. And I have always been in love with Jazz - the greats like Miles Davis and John Coltrane - and Jazz Fusion - Pat Metheny, John McClaughlin, Keith Jarret. Western classical music is also a mode of expression that I have studied and continue to try to emulate. Paula: What are your goals as a band? Mo: I think our goal is to have our music heard and played. Each person in the band has their own artistic aims, and we're trying to map a course that could serve everyone. For me, as a composer/ arranger, I'd like my music to be out in the world in some tangible form, and to create original music, music that cannot be heard anywhere else. Y: My goal is to go to a gig one day that's problem-free! Myr: I'd like to think that we bridge a lot of different areas of Jewish Music. There are people doing Klezmer, people doing religious music, and people doing Ladino and Sephardi, but we do it all. So I think that we're a bridge - in the Jewish tradition we're a cross-cultural group. J: I think our goal is to become better musicians, to become tighter as an ensemble; to stay loyal to our art, without selling out, if possible, and at the same time making a commercial impact. Y: In one of our concerts, the Sunday Morning Coffee concert at the Vancouver Playhouse, there were two old ladies sitting in the sixth row. After we played, maybe it was Oyfn Pripetshik or Rahav Hayam, they were crying. Mo: This seems to be a very valid goal in music - to touch people and to make contact with them on an emotional level. J: In San Francisco it was perfect - all these 40 year old women with wet eyes. Y: They cried in San Francisco because we said we were going to play one more song! Everyone: (Laughing Out Loud) Paula: Your music literally runs the gamut of Jewish Music. To what do you attribute your diversity? Mo: First of all, I'd say that everyone in this group, including Adel, represents another culture actually. We're all Jewish, though Adel only technically - his mother was Jewish but he grew up in a Coptic Christian home. We have Julian with a Mexican-Spanish connection; Yona, the Sephardi from Israel; Myrna, a Yiddishist, who grew up speaking Yiddish in Montreal; I am also from Montreal but I come from the Liturgical-Religious and Hebraic aspect of the tradition; and Adel happens to be a hot Bellydance Drummer from Cairo. I think the diversity principle is something we all like very much and within the group itself many different parts of the world are represented. I have always felt that most people, if given a chance, will enjoy diversity. It seems like a tremendous bit of bashert (serendipity) that, without planning it at all, we ended up with a group of people who are as diverse in their cultural backgrouds as the music is. Paula: How do you choose what songs to record and perform? Mo: Well, we fight a lot, we get a few bloody noses, and then after the hospitalization... Y: Then we do what Moshe wants! Everyone: (Laughing Out Loud) J: We fight, then we vote democratically, and then we do what Moshe wants! Everyone: (Laughing Out Loud Again) Mo: I feel really warm about this. Okay, next question. Paula: Future plans? Y: If you're asking me, to play more concerts and make more albums. Myr: I'd love to see the group do more concerts - Europe would be nice. Mo: Right now we're doing a lot of Simkhas (Jewish celebrations like Bar Mitzvahs and weddings), a certain amount of concerts, and we're promoting our albums. If some interesting concert opportunities come our way then we will do them. Specifically, we have a CD release concert coming up on October 24, at the Norman Rothstein Theatre in Vancouver, at which an expanded version of the group will be presented for the first time. Actually, making the concert group into a Sextet with the addition of another instrumentalist is high on our priority list.
Graphics courtesy of Tzimmes.