Peter Chipman
Dateline: 09/18/98

Peter Chipman is a warm-voiced baritone that cruises through traditional Maritimes folk music and contemporary standards with equal conviction. In the 1960's, while living in New Brunswick, he formed The Henchmen, a band that became a legend in the region with their energetic delivery of Maritimes folk.

Chipman now lives in a suburb of Vancouver and is an active musical artist, particularly lending his talents to the Vareity Club, an organization that helps special needs children. His latest CD is called For All Those Years, and is a collection of his best-known songs.
---
Paula: You've gone from playing and performing Maritimes folk music to performing easy listening kinds of songs -- how has your perception of yourself as a musician changed over the years?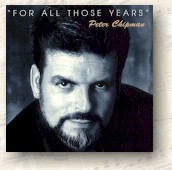 Peter: Perhaps strangely enough, I still think of myself as a folk singer and balladeer. to me the terms are interchangeable. I like to interpret a song, and present a musical story as an entertainer. For years I have done so with my guitar, even though I often work with bands and orchestras in big stage mode, like on Variety Club telethons. Paula: How does your Maritimes roots still influence you and your music? Peter: I still find myself returning to Maritime music, Celtic and traditional. During a gig, I'll work-in Newfoundland, Nova Scotia, New Brunswick & Prince Edward Island songs as part of a Canadian set. Some are rousing hand clappers and still others are poignant stories like Out On The Mira. Completing the Maritime Folk Music of the Sixties Reunion project, complete with our reunion performance at UNB in Fredericton Sept 97, was definitely a 'rush' and a return to my folk music roots. Almost without exception, where ever I have travelled, Maritime music has always been received with smiles and enthusiasm. even though I have been living on the West Coast since 1969, I have some very stong family connections with Nova Scotia and New Brunswick and they tug on my heart strings frequently. My Dad, Bert Chipman is now 91 and still going strong in Saint John, NB. The first Chipman came to the New World in 1637 (John Chipman the Elder) to Barnstable, Mass, so you see my roots go back a few years. Paula: What are your goals as an artist? Peter: At my age now (53), I have no lofty goals of musical stardom, but when I do sing I like to perform in a venue where I can connect with the audience. I have been through the major road work, I have worked the bars, lounges and cabarets. I had my share of the limelight on the main stage shows, and televison appearances, and still do with the Variety Club telethon organization, so now when I perform/entertain locally it is with a sense of my community. When I get to perform in the States it is as a proud Canadian. Last year a friend/choreographer and I produced a series of 18 shows here in Vancouver called 'Stepping Out With Variety Club'. With myself as Host and main musical performer, 2 guest artists and 25 young energetic dancers drawn from a local studio, we mounted a 'song and dance spectacular' of Broadway and Vegas style numbers, complete with fabulous costumes. It is my goal to be able to take this type of show around the province of BC, both as a terrific entertainment vehicle and too help raise the awareness of Variety Club. Paula: How did you get involved with the Variety Club, and why does that cause interest you so much?
Peter: In 1977 (in Victoria) I decided to reach for the brass ring and turned professional, first album 'You Girl' and provincial, then national coverage. Part of that was an invitation to perform on the Variety Club of BC telethon, aired in February each year. When I got to Vancouver, I took up an offer to visit the projects and meet some of the special needs children, for which Variety Club was raising money. That experience changed me when I saw the overwhelming need for equipment and facilities, and at that time BC desperately needed a new Children's Hospital. I have been a dedicated volunteer with Variety Club ever since, and always stopped in to various hospitals and childrens projects to sing a few songs when I was on the road. I think to date, i have now done something like 65 or 70 telethons for Variety in Vancouver, Winnipeg, Toronto, Des Moines andCedar Rapids, Iowa. Both my wife Pat & I are on the Board with Variety Club in BC, she chairs the main Auction in November and I chair the Planned Giving committee. Paula: Do you still keep in touch with your former Henchmen bandmates? Peter: Oh yes, very much so. Wwe have remained fast friends through the years, and can still lapse into 4 part harmony whenever we get together (not often) just like in the sixties. Jerry Gadd is in Victoria, David Sansom in Calgary, soon to move to Kingston, and Al Brien in Saint John, NB. Paula: What projects are you working on right now that you care to discuss? Peter: Continuing to develope the 'Stepping Out with Variety Club' show concept as described above. Also through Capcan Music, providing a marketing format for other independent Canadian recording artists, and if they wish, a distribution alternative through us with direct mail and the Internet. We currently are distributing for 17 CDs and 2 books. My wife and I also run a successful nutritional franchise with the product Juice Plus+ as a home based business.
Graphics courtesy of Peter Chipman and CapCan.