Jim Brickman
Dateline: September 15, 2000

Learn more about Jim Brickman by visiting his official Web site.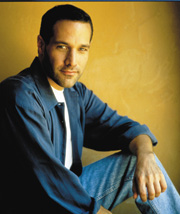 Romance and Jim Brickman go hand in hand. His heartfelt, soaring instrumental compositions have inspired many a romantic evening by the fireplace for many couples, which is one reason for the idea behind his latest album My Romance (Windham Hill). A live album, Jim performs many of his piano compositions, sometimes accompanied on vocals by the likes of Olivia Newton-John and Donny Osmond. I spoke to Jim about his music and career, including his efforts to have his music reach international audiences around the World.
---
Paula: I've always considered your music to be very romantic. What gave you the idea to actually release an album on that theme? Jim: I think it's because sometimes it's hard to describe the music and I think that so much of the time the word romance is used to describe it, that I felt like it was time to call it what people refer to it as, which is romantic. Paula: What are your goals as a performer? Jim: To be the best entertainer that I can be. Certainly to deliver the music people expect to hear, but beyond that to be a strong stage performer and connect with the audience; to make people feel like they are getting an experience in the theatre that is different than putting the CD on at home. I think some people don't realize that when they go to a concert they know that they like the music but they are not sure exactly what to expect, and to me live performing is all about giving people a really strong performance. Paula: And your goals as a composer? Jim: To emotionally connect with people so when they hear the music it doesn't necessarily have to be related to knowing me as the artist or anything about me personally, that the music itself can connect. It's a really important distinction because if you hear one of my songs on the radio, you may not know what I look like, or anything about the rest of the part of me that they sell in albums. First and foremost the music is what has to connect.

Photo courtesy of Talkmeup. Previous Features