Santour Virtuoso Kiu Haghighi Talks About His Instrument

Kiu Haghighi is a virtuoso of the santour, a traditional Persian zither. It is not an easy instrument: the trapezoidal-shaped box has several squadruple sets of strings, which are played by striking them with two mezrab (hammers or mallets).

A student of the santour since childhood, Kiu Haghighi has been performing since his teen years. As a member of the Iranian Ministry of Education and Art, he performed as the featured soloist in the Academy Orchestra and appeared often on National Iranian Television. In the mid 1960's, Haghighi left Iran and headed for the United States. He has performed throughout the States, Canada and Mexico.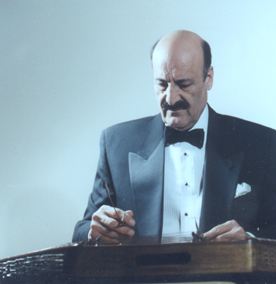 Haghighi breathes new life into this ancient instrument. While definitely staying true to Persian Classical music, he augments his sound with unique melodies and ornaments. I spoke to Kiu Haghighi about the santour and Persian Classical music.

Next page > Getting Started with the Santour >