Sabah Habas Mustapha
Dateline: 07/09/99

Sabah Habas Mustapha is best known to fans of World Music as the younger brother in the innovative 3 Mustapahas 3. He's also a solo artist in his own right, having just released his new album Jalan Kopo, named after the recording studio where it was created, on the Omnium label. Full of the sounds of Indonesia, Mustapha paints a musical portrait of an exotic land fused with some masterful Indonesia musicians.

Shortly before Jalan Kopo hit the streets, Sabah Habas answered some questions of mine about his music, both solo and with the 3 Mustaphas. This interview originally ran May 22, 1998.
---
Paula: How did you get involved with Indonesian music and how did you end up recording at Jalan Kopo with those excellent Indonesian musicians? Have you ever done anything like this before? Would you do it again?

Sabah Habas: Well, I have been visiting Indonesia for many years now. I have been to many of the islands of that huge archipelago. I like this place very much and have met many fine people there. Of course I am always listening to the music and trying to learn more about it. About nine years ago it was that I went to Jakarta to go and visit some record companies to set up contacts for licensing Indonesian music to some companies in Europe. I became friendly with one particular record company boss who offered me the use of his studio. Well, I had been listening to a lot of Dangdut music so I asked him if I could play with some Dangdut musicians. I quickly wrote a couple of songs and went into the studio to learn how to make a Dangdut record. Now this really started a big pot of soup boiling. At the end of the sessions I had a tape of my two songs and a big burnin' hunk of desire to make a whole album like that. A bit later I was in Japan and I went to see Wave records, who I had done some work for (Rinken Band) and who I knew had put out some Indonesian stuff in Japan. I left them my cassette and my proposal. Well, to make a long story not quite so long, I did a deal with them to make my album in Jakarta. This was released in Japan with the title "Denpasar Moon". That was one of the songs on my demo cassette. Then I found out that meanwhile Sony had heard this song and made a version recorded in Tokyo with a young lady singer from the Phillipines called Maribeth, who they wanted to launch in Southeast Asia. They made a video with her in Bali (Denpasar is the capitol city of Bali) and showed it on Indonesian TV. All of a sudden her version started selling like the red hot cakes. It sold over half a million cassettes and then many local artists made cover- versions - I now have a collection of over 50 different ones in various music- styles and languages. Later they started a soap-opera on the TV with the same name using the song as it's theme.Yes, I had inadvertantly written an Indonesian classic. That song has made me many friends there. So that's how I became involved with Indonesian music. Incidentally my Denpasar Moon album was released in Europe on the German label, Piranha, distributed in the USA by Stern's African Records (!), NY. Now I still don't know why this song was so popular but I originally wanted to mix together ideas from two Indonesian styles that I particularly liked. Namely, Dangdut - an urban dance-style influenced by Indian film music but with a mainly mid-tempo, slightly reggae-ish feel - and the haunting, melancholy melodies of Degung - a more traditional style featuring gamelan instuments and bamboo flutes and zithers which is one of the great music traditions of the West-Javanese province of Sunda. I like this music style particularly much, so when I decided to make another album in 1997, I went to Bandung, the Sundanese capitol city. I'd been there before some years ago when I had arranged a license deal between the composer/orchestra leader/choreographer Gugum Gumbira and GlobeStyle records UK. So I booked Gugum's studio and some of his musicians and that's the story of Jalan Kopo. As for doing it again I am planning some more sessions in Jakarta this year. Paula: What other musical styles and cultures are you interested in? Sabah Habas: Well, of course many aspects of life on this planet are very interesting for me and music is an excellent way to communicate feelings and intentions and when you are lucky, have a lot of fun doing it. I am particularly fascinated with Japanese culture and I am most drawn to the joikking tradition and the people of Finlad and Samiland. And what about Blues & Gospel & the great country musics of the USA? And I have been at one time or another deeply moved by music from Bulgaria, Tanzania, Mali, Nigeria, England.........er, let's face it, there is a glittering abundance of wondrous expressions of the human spirit all over this extraordinary spherical rock upon which we grab our chance at a fleeting existence and try to make sense of it all. Paula: What is happening right now with 3 Mustaphas 3?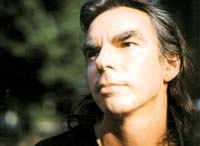 Sabah Habas: Yes, my family is scattered to the four corners, five continents and seven seas. All engaged in their little projects, such as earning a living, music research, space exploration, market gardening and trying to impart knowledge to their children, to name but a few. Lately my brother Hijaz and I have been collecting together many recordings of live performances, radio happenings and other audio phenomena in order to be releasing an official bootleg CD to be released in the North Americas on the Omnium label. Paula: What did you like most about working solo on Jalan Kopo? Sabah Habas: Mrs Sujanto's banana fritters and that thick black Java coffee. An unbeatable combination. Paula: How do you plan to promote the new album -- any big tours or tv/radio appearances on the horizon? Sabah Habas: I am starting my European tour on the 9th May in Poland. I am open to offers for the USA. Please contact Omnium Records or me directly.