Bhangra in the UK
Dateline: 06/12/98

Partners in Rhyme is a young production duo of Indian decent who make their home in the UK. Hardip & Prem are part of Project Bhangra, which has the goal of bringin UK-based Indian music to a worldwide audience.

I was very curious about how PIR maintain their cultural identity through their music, and what they plan to do with their talent. Hot on the heels of their latest album Distant Voices on which the duo brings together some incredible Bhangra and Indian artists, they took some time out to answer my questions.
---
Paula: Who are you, and how did you get involved with Project Bhangra?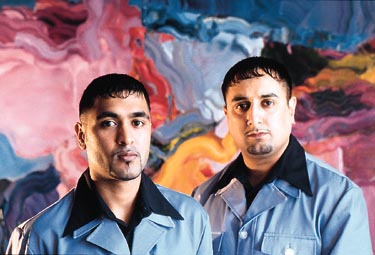 PIR: We are a British born South Asian production duo who have most recently released our 3rd album to major critical acclaim. Our music style combines the essence of traditional Punjabi Bhangra, Hindi film music with the wide array of music styles they have been raised on in England. Project Bhangra teamed up with us on release of their 3rd album Distant Voices and has helped us to achieve notoriety for our music through extensive promotion and media work. The album features eight tracks by some of the leading names in Bhangra and the Hindi film world and has been tagged as a 'global album with something for everyone.' Paula: Why is Indian music like Bhangra getting so much attention these days? PIR: With the type of exposure the likes of PIR give Bhangra [originating from the state of Punjab, in Northern India], the music has been given a new lease of life by Punjabi's and Indians who have taken the music with them to their homes outside of India. Simply, traditional Bhangra can be described as the music of James Brown in his musical heyday. Now, he and his music have embraced the modern music moods to create something unique while always keeping the formula of the original sound. Bhangra now is a million miles from Bhangra in the past but at the same time it cannot leave the traditional style behind ! Paula: I got the distinct feeling that the artists on the albums you sent were including traditional Indian folk, sort of like getting back to their roots. Yet these people live in the UK! Why the sudden need to reconnect? PIR: Reconnect ? No ! It was never a case of un-connecting !! Growing up, the music has been always a prominent feature of our lives We have always listened to it and kept an informed account of what Bhangra was saying. We just used our western music influences to give the traditional music style something else; a sound clash of east and west. Paula: How is your career going so far? PIR: We have just been signed to SONY due to the amazing success of the album Distant Voices. Our UK based record company, Oriental Star Agencies, has given us a strong base to get this exclusive recording deal. We've picked up a number of top South Asian music awards and are also nominated for two prestigious music awards at the Asian Pop & Media Awards, which is being held on June 7th 1998, for ALBUM OF THE YEAR and SONG OF THE YEAR. Next year will be spent promoting the current album and planning the next project. Exciting times ahead ! Paula: What do you see as the future for this kind of music? PIR: The future ? There are no barriers. Music has overcome any that were in its way ! PIR carry the Bhangra flag in the UK -- the next year will see us step up the fight to gain world-wide acclaim ! Special thanks to Jatender Heer of Project Bhangra for helping organize this two-part Bhangra feature. Jatender has written two articles about PIR, in the online Indian lifestyle and entertainment magazines Masala and Little India. Photo used with permission.