Taking the Sarod to New Depths

Rajeev Taranath is one of the most distinguished sarod players in India and beyond. The sarod is an Indian lute, smaller than a sitar, and often used in Hindustani classical music.

A highly disciplined player, Taranath studied with Maestro Ali Akbar Khan and adds his own unique use of melody and rhythm to the Hindustani Classical music which he performs. In addition to his concert touring schedule (he performs throughout India, the United States and Europe), Taranath is a musical director for Indian films, having won numerous awards for his scores. He is also a visiting professor of Indian Music at CALARTS, the California Institute of Performing Arts.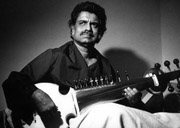 Taranath's passion definitely comes through when he is speaking about his music and instrument. He divides his time between India and California, and managed to answer some questions about the sarod, his musical training and his goals as a performer.

Next page > Characteristics of Playing the Sarod >