Still High on Emotion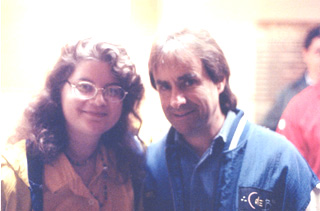 Inside World Music: "Lady in Red" was such a huge hit. Did you, at that time, feel pressured to follow it up and do it again, or did you just sort of take it in stride?
Chris De Burgh: I suppose, yes, that was a feeling that it would be nice to go there again. I already had a few hits - "Don't Pay the Ferryman" was a big hit, "High on Emotion" was a big hit, and then "Lady in Red" was sort of the cream on top, then right after that was "Missing You," but it wasn't as big. I suppose as a songwriter that you be grateful that you got away with having a few classics and one real monster, because that one just carries on and on. I suppose ironically I was known not just for a lovely, sensitive ballad, but also the rock stuff, because I remember in '86 we were touring, and we were doing the football stadiums, 50 000 people a night. This was a full-on rock show with one of the best light and sound shows that anyone had ever seen, because I toured a lot with Supertramp and I learned a lot from them and we used a lot of their crew and we put on a similar kind of exciting show with visual imagery and so on. Sometimes it seemed to me that I was heading down this road of tuxedo crooning, and I thought, "well that's not me." I've always been a huge admirer of someone like Paul McCartney who can sing a beautiful ballad like "Yesterday" and then sing his head off with "Helter Skelter," and that's where I was aiming myself at.
Inside World Music: What goals are you still striving for in your career?
Chris De Burgh: You know, every day is a goal. I just like to wake up feeling healthy in the morning, nowadays, which I do, thankfully. I take my kids to school every day - just to be normal is a goal. My daughter has been chucked upside down into a completely different area. During my daily life, it's such a pleasure to be on this planet. It sounds so facile to say that, but this planet was spinning long before you and I were born; it's going to carry on long after we're gone and the chance to be here just for a short time, is just amazing. I feel that every single day. I wrote a song trying to suggest that at the end of the new album; it's called "Read my Name," and it's just to say you're here for a while, don't just let it drift on. Every day is important, make sure that when you go everybody can remember who you are - this is me, I've done this, I've achieved something.

Photo of Paula Kirman and Chris De Burgh taken in 1996 after a concert at the Jubilee Auditorium in Edmonton, Alberta.
Next page > Chris De Burgh: Back to Part One >