Wolf Krakowski's Transmigrations
Dateline: 04/17/98

The kind of music most often associated with Jewish culture is Klezmer, the fast-paced, wedding music of the Ashkenazi (Jews of Eastern European decent are of the "Ashkenazic" culture; from Morocco, Spain, and Algiers are "Sephardic" and between the two have slightly different customs). But there is more to Eastern European music than Klezmer. Just ask Wolf Krakowski.

Krakowski was born in an Austrian Displaced Person's camp, the middle child of Jewish Holocaust survivors. The Holocaust indeed shaped music and poetry springing forth from the horror of the Nazi forces' attempts to eradicate all of European Jewry. Krakowski gathered several of these songs, many somber in tone and lyrics, on Transmigrations, his independent first release on his own media company, Kame'a Media, where he produces his own CDs and videos.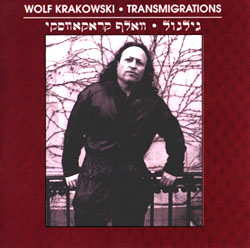 The songs are in Yiddish, with English translations provided in the liner notes. Yiddish, a sort of blend between German and Hebrew, is Krakowski's first language, a language which is not nearly as commonly spoken amongst Jews as it used to be. That is part of the reason why Krakowski felt the need to record in his native tongue. "I saw the Yiddish language degenerate in the mouths of crude Borscht Belt comedians, who employed the most rude vernacular -- shtup (vulgar Yiddish vernacular for "screw," but actually means "to push"), shlep (to drag oneself, like on a long trip), shmuck (a very rude insult) -- and forever colored the perception, understanding and esteem of this language, both among Gentiles, and sadly, even Jews from Yiddish-speaking families," he says. Although Krakowski is a prolific songwriter and poet, all of the songs on Transmigrations are traditional, or by legendary Jewish singer/songwriters. Even so, Krakowski brings his own unique touch to each of them, with his contemporary arrangements and distinctive nasal, almost rustic vocals. According to Krakowski, the album is "an expression of part of who I am and how I spent my time on earth. That, and a living, singing memorial to my murdered family. I sing to them; they, who were so brutally silenced, sing through me." "Tsen Brider" ("Ten Brothers") is a traditional folksong about ten brothers who die off, one by one. "Shabes, Shabes" is another folksong with an underlying reggae beat, calling for peace, freedom, and the Sabbath (Shabes), the Jewish day of rest. "Varshe" ("Warsaw"), and "Alts Geyt Avek Mitn Roykh" ("Everything Goes up in Smoke") are by Benzion Witler, a songwriter who survived the Holocaust. All of the songs have an underlying punch of Krakowski's band of excellent musicians, including Jim Armenti on Guitars, Ray Mason on bass, and Fraidy Katz on backup vocals, and who also did the English translations from Yiddish along with Krakowski. The Shoah (Holocaust) has understandably been a major influence on Krakowski's life and work. He has documented the testimonies of Holocaust survivors for the Survivors of the Shoah Visual History Foundation (the Spielberg Project, funded in part by the success of Schindler's List), taping over 100 interviews. On his own, he has made videos such as My Name is Stella: An Oral History, and Vilna. Transmigrations is rooted in Jewish traditions, but have universal aspects as well. Especially in terms of the mix of musical styles, this is an album that is both educational, and entertaining. "Due to a set of historical circumstances over which I had no control -- my family history and my early circumstances," says Krakowski, "I have been nurtured by two streams and I have become a hybrid product of them both musically, an Ashkenazi bluesman and a Yiddish soul singer. Transmigrations, however, is first and foremost an album of World Music."