Sacred Sufi Music has a Worldwide Audience

Nusrat Fateh Ali Khan (1948-1997) is one of the artists most responsible for bringing Qawwali to the World. Up until his death in 1997, he performed throughout the globe to appreciative audiences.

Like most Qawwals, Nusrat Fateh Ali Khan's musical heritage spanned back six centuries. Born in Pakistan, he had no desire to become a Qawwal, until a dream convinced him otherwise. What sets Ali Khan apart from other performers in the genre, was his ability to connect with his audience -- no small feat, considering many of his listeners knew very little about his musical art form or about Sufism. At the same time, he never lessened his music's spiritual impact. His music was widely recorded and continues to be readily available. The Music Club label released four compilations in 2001, containing live and rare versions of some of Ali Khan's best-known songs. On Ecstasy, there is an incredible live rendition of Ali Khan's signature song "Alla hu, Allah hu, Allah hu," an energetic piece of praise that he often used to open his concerts. For some sound samples of Nusrat Fateh Ali Khan, Noms Favorite Nusrat Fateh Ali Khan Songs has a huge selection of songs to sample.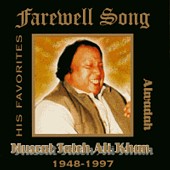 Previous page > An Introduction to Qawwali >