Alla Kadysh
Dateline: 03/26/99

With her sultry Russian accent and songwriting style that encompasses jazz, folk, and ethereal World Beat, singer/songwriter Alla Kadysh is already making a name for herslef in Canada, her home for the past few years. Her new album, Perichole's Sincerity Theory is attracting attention from radio stations and the print media alike because of its unusual combination of styles. By the way, if you want to know who Perichole is, you'll have to visit Alla's Web site to find that out, and much more about this performer on the rise.
---
Paula: What is your musical background?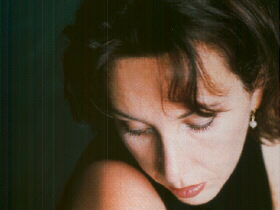 Alla: I was taking classical piano and singing in a choir since I was 7, but dropped out of Musical College to study computers in University - a mistake, because I'm not by no means a computer wizard. My attempt to correct it lead to a very small part in one of the Musical Theatre productions. Just a chorus line basically, but I was on stage ever since. Shows, bands, choirs, back-ups, plays - you name it. I even sang with Jazz band from the Russian NAVY orchestra at some point. Sadly, I had to take a pretty long break when I immigrated to Canada. Paula: Who and what are your musical influences and why? Alla: There was a lot of Tchaikovsky in my childhood, and a lot of Freddie Mercury in my school years, that's why I still love collaboration of rock musicians with the classical ones.One of the shows I'd worked with was Jewish music from around the world. Klezmer, Sephardic, Israeli - everything from the Berry Sisters to Ofra Haza.I'd been with the show for two years, so I guess you can hear some of that influences in my songs. Another big one for me was true "show girls" of the music biz - Nina Hagen for example. Plus, when I came to Canada I've started listening to contemporary Canadian artists - Jazz, folk and celtic. Paula: What are your goals as an artist? Alla: I'd like to start touring again. I haven't done it in a while and I miss it. Also, I'm planning to start recording new album later this year and I'd like to be able to collaborate more with other musicians and songwriters. Perichole's Sincerity Theory was a lonely road. Paula: What has the reaction been to your music so far? Alla: Reaction from people had been amazing. There is always a small crowd at the end of the show - buying albums, complimenting the performance, asking questions, trying to figure out who do I sound like. (Marlene Deitrich comes up a lot, which still surprises me. It's the accent I guess). And somehow there is this sense of bewilderment "You're really good, how come we haven't heard about you before?"