Fiddlers on the Loose

What is a fiddle?

The members of the instrumental stage show Barrage once asked asked an audience if they knew the difference between a fiddle and a violin. "We used to challenge our audience - we would tell them that anyone who could tell us the difference between a fiddle and a violin would get a free CD," says fiddle player Roxanne Leitch. "You would not believe the kinds of answers we would get, things like 'Well, the fiddle has more strings.' But it is the exact same instrument; just the styles of music are different." If you have never heard of Barrage, you will soon. A musical mix of high-strung Celtic, jazz and World-influenced musicians not only play (some members play several instruments) but also perform their hearts out with intense passion and theatrics. Barrage is currently on their first major North American tour in support of their self-titled debut album. First they hit several cities in Canada, and now they are going across the United States. The act is a frequent sell-out at the Epcot Center in Florida, and has also performed overseas. However, in North America, most people know Barrage form their Public Television special.

"That was our big break," says fellow fiddle player Errol Fischer. Roxanne Leitch, also a fiddle player, was a student of Dean Marshall, one of the people who put the act together and who composes and arranges all of the music for Barrage. Created in the late 1990's in Calgary, Alberta, Barrage is gaining an international audience due to their broad musical appeal and energetic, often acrobatic stage presence. "We want to break the boundaries of the fiddle," says Leitch.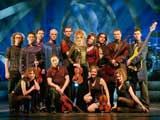 Fischer agrees. "We want to change preconceived notions people have of the instrument." Leitch's goal with Barrage is to become a better musician personally. We've been compared to Riverdance and Stomp, but we want to create something different, something that is our own.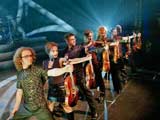 Most of all Leitch says, "We just want to get the word out and reach more audiences." Fischer intends "to be part of something unique, something different, something that changes people's outlook of the fiddle. Basically, I want to make it cool."
Photos by Trudie Lee