Sassafras
Dateline: 03/12/99

Sassafras is a Celtic/folk duo of Barbara Matthews and John Saunders. Together, they create music that is acoustic, simple, and ethereal, combined quirky lyrics presented by Barbara's bird-like voice. Convivium is the duo's second CD and is well worth the effort of seeking out (details on how to get your copy follow).

I recently spoke to Barbara and John about their music and where they plan for it to take them.
---
Paula: How and when did the two of you get together to form the duo?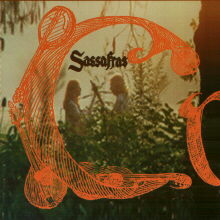 Barbara: Back in 1993 I started taking mandolin lessons, and John was my teacher. That's how we met. I wouldn't say I was such a fantastic student, but I practiced hard. But what got his attention, I think, were my songs, which intrigued him, I think, especially "Satellite to Reason", which ended up on our 1st CD. When I first heard one of his original instrumental pieces, "Shaker Square", there was something at once familiar and right about it, yet so different from other banjo pieces I had ever heard. John: Then we realized that it was time to present the songs so we could perform them for audiences. We started performing in 1994, and we realized we were reaching people. Some people said we formed soul connections with them. Paula: What is the story behind your name? John: We wanted a name that sounded natural, after all our music is acoustic, and sassafras is a tree, a root (Celtic and Medieval influences are prevalent roots of our music), but the fun connection was from a novel my dad wrote years before entitled "Sassafras" about a young man who leaves Ohio back in the 1800's and travels out West for adventure and to find his fortune. Paula: Who and what are your musical influences? John: I'm from Montreal, and grew up listening to French/Canadian Folk Music. I listened to Country Music, The Beatles, Jazz and Classical Music. I have a wide range of listening influences. Barbara: I listened to a lot of early music--Spanish 16th century lute pieces by Alonso Mudarra, and anonymous composers of Medieval and Renaissance lute. Bach, I love, and also modern influences like Sting, Moody Blues, and Fleetwood Mac. For both of us, obvious ones are Celtic music and Irish reels and jigs. Paula: What are your musical goals? John: We want to keep writing songs and hope that they reach people. Barbara: I see the songwriter as a teacher/healer/prophet, of sorts, and some use this power for the good of all, and some ignore recognizing this or use it for negativity. Our purpose is to promote understanding and wisdom and love; sometimes this is best accomplished by an instrumental, where words do not interrupt the consciousness.(May I add we don't want to put the audience to sleep?--John) Other times, lyrics are a defining good, creating a new perspective in a poetically memorable path. John & Barbara: : All in all, we just want to make good music. Paula: How can someone buy your album? John & Barbara: They can write to us sending $15.00 (U.S) in check or money order c/o John Saunders, 78 Solon Rd., Chagrin Falls, Ohio 44022. Also, if there's a Borders Books & Music store in their area, they can order it through their local store from the stores in Solon, Beachwood, Westlake, Strongsville, Cuyahoga Falls, Ohio or South Hills, Pittsburgh, Pa. The Borders stores send out to each other as demanded, and they are a huge nationwide chain. Paula: What projects are you working on now that you would like to talk about? John: We're planning our 3d CD, and we have enough material for CD's #4 and #5. Barbara: As exciting as that is, we also are making some plans to expand our areas of touring. We hope to schedule some things in Canada, Ireland, and Britain. Nothing definite, yet. Sassafras can be contacted by email for further information about booking and CDs.
Photo courtesy of Sassafras.