Turku
Dateline: 02/26/99

Turku is a World Music enselble that is unique in that the members are dedicated not only to performing traditional folk music and dance of Eurasian cultures such as Turkey, Azerbaijian, and Armenia, but also of researching and preserving those traditions. Although they use only traditional instruments like oud, saz, and tar (Eurasian lutes) combined with darrabuke, davul, and kasik (Eurasian and Middle Eastern percussion instruments), their sound draws upon a driving beat and instrumental improvisation not unlike maodern jazz.

I recently spoke to founding member Ted Monnich, oud and violinist Farzad Roberts, percussionist David Korup, and tar player Shahriar Panahi about their music and goals. Ted's wife Carla is also int he band, playing klarnet, davul, and zils. Turku embarks on a festival tour in May '99 to Dallas, LA, San Francisco, and Seattle and is planning a 10 city tour in the Fall with a new stage show and dance troupe. The band is also working on a new CD planned for a May '99 release.
---
Paula: How and when did Turku come together as a band? Shahriar: Turku is Ted's imagination come to life. Dav'id: I joined the band in September '97 just before the Black Mountain Music Festival gig. Farzad: Ted sniffed us out of and made us a band about two years ago.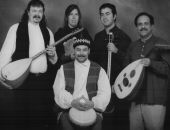 Ted: I got tired of travelling to the Northeast to enjoy good ethnic music and determined to start my own Turkish band in the Southeast in September 1996. Paula: Who and what are your musical influences? Farzad: My musical influences are mostly excellent but obscure local musicians in a small Persian town where I was born and grew up, where music was (and is) looked down upon as a quasi-immoral activity, and musicians as second rate citizens. I try to emulate their passion and purity. When I play and get applauded it is they who are receiving the applause they deserved but never got. Dav'id: I got my start as a rudimentary snare drummer. Drum & bugle corps music and jazz were constantly being played during high school years. As I began studying hand drumming, Ibrihim Turman and the music of the Sultans, Carl Palmer, the Diga Rhythm Band, and the music of Chick Corea w/ Return to Forever were highly influential to me. It was also at this time that I was introduced to classical zarb music. Shahriar: Tribal and folk music of Iran, Kurdistan, Azerbaijian, Khorasan. Classical Persian music: Lotfi and Alizadeh - Rhythmic figures of the Persian Radif. Ted: All my life I have relished the joy found in folk music of Eastern Europe, the Balkans, and the Middle East. After tracking the sound to its source: Turkey, I became enthralled and absorbed in the variety of Turkish folk music. From there my greatest influences are Mehmet Erenler, Talip Ozkhan, and of course my teacher Tevfik Alici. Paula: What are your artistic goals with the band? Ted: Of course I'm broading my musical horizons and striving to be a better musician, but I also want to knock people's socks off with Turku's high energy performance of this emotionally moving music and dance. Turku is a performance group with a professional dance troupe that has the talent to deliver a stage show of authentic music and dance as evocative as Riverdance with the energy of a rock concert. Farzad: To express the emotions common to all human beings regardless of time and place. I want people to hear this music and say yes it is from a far place and a distant time, but I understand what it says. I can relate to that. Dav'id: I want to spend more time composing with other band members in both classical and eclectic Eurasian styles. In addition, I am looking forward to sharing our music with people all over the globe. Turku's music is so accessible to a broad spectrum of people. In a world full of commercial music and canned ideas, people are looking for new music to enjoy, and if they get a bit of education in the process without the pain of feeling like they are in school, all the better. Shahriar: To represent folk music and dance of Eurasia to a worlwide audience in the most aurally and visually alluring form while staying true to the indigenous quality of sound, melodies and rhythms: We want to build on these traditional songs and dances through sophisticated improvisation and choreography. My personal goal is to further capture the essence of this music on the Tar through heightened technical ability and soulful interpretation. Paula: What would you say is your biggest accomplishment so far? Shahriar: We have been able to reach and touch a diverse audience ranging from teenage Hip Hop fans to Turkish and Iranian immigrants to 70 year old southern grandmas through presenting a range of high energy music with alot of soul. The way audiences have responded to our music and dance has been our greatest prize. Farzad: Hundreds of all ages, cultures and colors, being alternately entranced, exhilerated, crying and dancing in the aisles to our music. Ted: Turning on a Turkish college student to their own folk culture through our lively presentation of it, as well as opening the eyes of thousands of Westerners to these cultures through this music. Dav'id: Being able to earn a living through my music.
Photo courtesy of Turku.