The Filmmakers Behind Paul Pena's Journey Speak

Genghis Blues is a film about a gifted musician and a dream come true.

A blind musician heads for Tuva to study throat-singing, becoming a master of the form. He later competes in a throat-singing contest, the first-ever American contestant. The musician is Paul Pena. Pena is from San Francisco, the son of immigrants from Cape Verde, West Africa. His blend of Mississippi Delta Blues, Creole, Cape Verdian folk and Tuvan throat singing has made him one of the most globally-influenced musicians of our day. He's played with Bonnie Raitt, T-Bone Walker and B. B. King. Genghis Blues documents Paul's incredible journey. The film was nominated for an Oscar in 1999 for Best Documentary, and won a Sundance Audience Award that same year. I spoke to Genghis Blues filmmakers Adrian and Roko Belic about their fascination with Pena's music and story, the challenges they faced in making the film and their goals as filmmakers.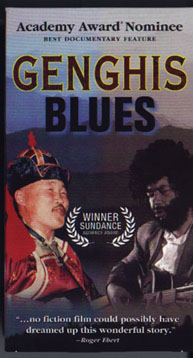 Next page > Adrian and Roko's Inspiration >