A Debut 25 Years in the Making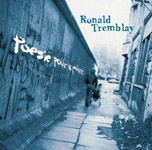 Poésie pour le poivre features original songs by Tremblay, performed in a folky/acoustic/sometimes bluesy style, and mostly in French - and a couple of translations of well-known folk songs: Leonard Cohen's "Dance Me to the End of Love" ["Danse-moi vers la fin de l'amour"] and "If You Could Read My Mind" ["Fantomes d'automne"], the timeless classic from Gordon Lightfoot.

"The Leonard Cohen song is a song that has stayed with me. I discovered him when Various Positions came out in 1984 which is the album where the original song comes from," says Tremblay. "After that I kind of went back and I've really investigated Cohen quite a bit. In about 1987 or '88 I discovered this guy from France, originally from New Zealand, named Graeme Allwright, who translated a lot of Leonard Cohen and also Bob Dylan songs. I contacted him at one point, as a CBC producer. We were doing a special on Leonard Cohen and that really got me buzzing." Tremblay did the translation for the Gordon Lightfoot song himself (with the aid of another lyricist, Marie Lavoie), and it was approved by Lightfoot's publisher. "It's a really weird thing. I've known that song ever since it came out in 1971 and at some point in the last ten years, each time I hear it, two lines would kind of superimpose themselves in French on the original lines."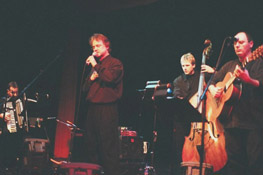 Four songs were written especially for the album. The rest were chosen from the many, many songs in Tremblay's musical notebook. "I've been writing songs now for 30 years," says Tremblay. "I could have put together a CD of all original compositions but at one point I had these songs that were lingering in my brain all these years. If you look at the dates, some are from 1977, some are from '91. So actually, for a first -- or only album, it all depends -- I had a choice of a whole lot of songs from a whole lot of places." Needless to say, there was quite a difficult selection process. "I knew I had in that range of songs I had, I knew I had 12 good ones in there. It took me a little while, but basically I got the 12 best songs - or 11 best songs; one is a soundscape rather than a song - so I have 11 pretty good songs on there."

Next page > Ronald Tremblay: Part Three >


Photos © 2003 Paula E. Kirman