Visionary Dance Productions
Dateline: 01/29/99

Visionary Dance Productions is the brain child of partners Steven and Delilah Flynn. Delilah is a dancer who has made some very well-respected bellydance videos, while Steven is a musician who accompanies many of the videos and choreographic productions that involve the art form of bellydance. His latest album is Rapture Rumi.
---
Paula: What is the genesis of Rapture Rumi?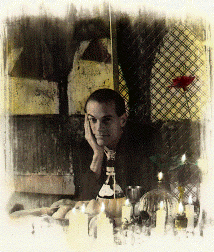 Steven: The genesis. This music originated as a commission from Robert Davidson to write a score for a choreography he working on based on the life and poetic work of Jalalluddin Rumi. Robert's work involves dancers utilizing low-flying trapezes, which basically allows them to dance in the air, with ethereal, astoundingly beautiful results. Robert and I had become familiar with each other's work in 1989, when he and my partner were both in a company of dancers, actors, and artists that went to Uzbekistan, then in the Soviet Union, to perform on a cultural exchange tour. My partner, Delilah, was using music I had written in her dance performance; Robert liked it and asked her where it came from. We met and talked some when they returned from the tour. In 1995 he was working on the choreography for "Rapture: Rumi", a follow-up to his last major work which had been based on Meister Eckhart, a German mystic from the same century as Rumi. He had heard my music, as I mentioned, and also knew that I played ney, the reed flute which is a central symbol in some of Rumi's poetry (the first line of his Mathnawi, the main book of his verse, begins "Listen to the reed...", speaking of the ney). Robert also knew that I was familiar with Rumi's poetry, and that I worked with a group of whirling dervishes, who practice a spinning meditation begun by Rumi. So I guess I was a natural choice for him. After the music was completed for the dance piece, I continued to work on it for some time to develop it for the CD release. Paula: How did you compose each of the pieces on the album? Steven: In Robert's choreography, each section of the dance was preceded by a short poem or quatrain by Rumi. Each piece of music was originally written based on a these poems. I worked mostly with the emotional tone of each poem, trying to express through the music how each one felt to me. Some of these poems are recited at the beginning of the CD, to set the tone. Incidentally, much of the choreography was pretty well developed when I began writing, but I had not seen it, and Robert didn't ask for anything in particular for any of the music: he just gave me a general length of time, and the poem on which each section was based. When the music and dance came together for the first time, the fit was incredible, the synchronicities between changes in the music and in the dance that I had not seen were amazing. Paula: Tell me about Visionary Dance Productions. Steven: Visionary Dance Productions is a dance, video and music production company begun by Delilah, an internationally know bellydance performer, instructor, and visionary, and I in 1985. We've produced 10 titles of bellydance instructional and performance video, and several CDs of music for dancers (and listeners). We also produce a bellydancer's retreat in Maui each January, where dancers comes from all over the world to study with Delilah and dance in paradise. Paula: What are your musical influences? Steven: My musical influences are wide and varied. I love living now, when so much great music from so many traditions is available. My first love was American blues and rhythm and blues, particularly New Orleans music. That's the groove. I also listen to a lot of jazz, John Coltrane being one of my favorites. From working with Delilah and other bellydancers, I've studied the music and rhythms of many parts of the Middle East and Northern Africa, and in working with the whirling dervishes I've become familiar with the music of the Ottoman Empire and present day Turkey. I think the common thread in the music I listen to, and the thing I always try to learn from it, is the expression of passion, of the joy and pain of living. Great music to me is music that makes one feel these things, that takes one on a journey, that opens the heart. Paula: What are your goals and what are you workingon now? Steven: Currently, I'm writing some new music (which I hope will become a released CD by Spring), and playing a variety of live shows: dervish music, Middle Eastern, and rock and roll (usually not at the same time... although there are similarities). Delilah and I are also working on a new video in our bellydance instructional series.