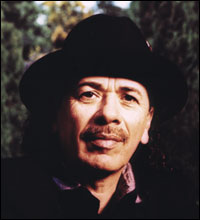 Background: While it seems that Latin American music has been taking the World by storm only within the last few years, Carlos Santana and his band have been at it for more than three decades. This incredible guitarist has infused his music with Afro-Cuban influences along with jazz, blues and other World beats. A member of the Rock and Roll Hall of Fame, His love of music began in the Mexican village of Autlan where he absorbed the traditional music of his father, a mariachi violinist. The family relocated to Tijuana, where Carlos took up the guitar, and later to San Francisco. After spending several years developing his unique style, Santana, as a band, shook things up at the Woodstock Festival in 1969. Over thirty years and 36 albums later, Carlos Santana is still a major force in the World of music.

Essential Albums: Supernatural (Sony Music 1999) - Grammy-award winning album that sold more than 10 million units World-wide and includes duets with numerous rock stars, most notable "Smooth" with Matchbox 20's Rob Thomas.
Santana (Columbia 1969) - The Santana Band's first album, it features "Evil Way".
Abraxis (Columbia 1970) - The quadruple-platinum follow-up to Santana, featuring "Black Magic Woman."
There are numerous Greatest Hits packages available. Notable Web Sites Official Site - Information about Carlos, his life and music.