Arturo Sandoval
Find resources for World Music from a variety of countries and cultures here. Other fans of World Music are waiting to chat right now.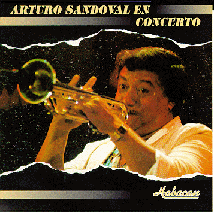 Arturo Sandoval is one of the premier Latin Jazz instrumentalists around. Hailing from Cuba, despite the political oppression of his native country, Sandoval has found a huge audience in the United States, where he tours regularly.

He has won Latin Grammy awards for Jazz, and finally defected to the United States when he turned 40. Widely considered a technical master of his primary instrument -- the trumpet -- he has authored three technique books, and releases an album every year. Other instruments Sandoval plays include the piano, congas and timbales. To take a listen to Sandoval and his exciting delivery, here is half a dozen sound files -- just scroll to the bottom of the page.