Blue Jackel is a relatively new label that in the short time of its existence has managed to line up an impressive roster of artists from Brasil and Cuba. And a wide range of Latin music at that -- from the traditional, Native stylings of

female vocalist Marlui Miranda to the horns and brass of William Cepeda, who combines African, jazz, and Latin influences in his music. In fact, the motto of Blue Jackel is "where Jazz and World Music come together," and is evident on

many of the label's current releases. There is the singer/songwriter Gilberto Gil, known for his lyrics backed up by unique instrumentation, and the percussion of Tony Mola.

Then there is Dissidenten (German for "The Dissidents"), an internationally-renowned collective of musicians who make music that can only be described as World Beat -- electronic, Arabic, Native American, North Indian -- there is al ittle bit of everything.

Listeners who are new to Cuban and Brasilian music would definitely want to check out two incredible boxed sets, Cuba: I Am Time, which contains four CDs enclosed in an attractive cigar box and is accompanied with a 112 page book on the history of Cuban music.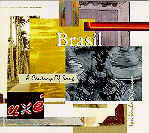 Brasil: A Century of Song also has four CDs and a 48 page color book which tells the story of Brasilian music drawing up on the most popular music styles from that part of the world -- samba, choro, and forró. I recently asked label president and founder Jack O'Neil about the origins of the label, what is happening now, and what the future will hold.
---
Paula: What is your involvement with Blue Jackel? Jack: I am president of Blue Jackel. I started Blue Jackel about 4 years ago. I have been involved with musical most my whole life. Before working on the label side I was a professional musician (Tenor & Soprano Saxophones). I was lucky enough to play with many people all over the world. From 1985-1992 I was co leader with Al McDowell (Bass with Ornette Coleman's Prime Time Band for over 20 years now) in a group called Timepiece. We have two releases out on the Gramavision Label-Timepiece and Messiah. When the band broke up I was hired to start and develop a world music label. After 5 years I was given the opportunity to start my own label. Paula: What are your goals with Blue Jackel? Jack: The artistic goals of Blue Jackel I guess can be summed up this way. We are involved with artists that understand the traditional music from their countries but push the artistic envelope so to speak by using their knowledge of traditions to create contemporary music. What results we hope is music and sounds new, yet rooted in tradition. This also applies to what we look for in an artist. I also look for artists that understand what they need to do in a studio. An artist that knows what sounds he is looking for out of each instrument. An artist who can write music and incorporate all modern and ancient sounds into a unified composition. Paula: What current Blue Jackel releases are you particularly enthusiastic about, and why? Jack: I have had a hand in (recording, mixing, and mastering) most of the recordings that have come out under the Blue Jackel label in the last two years. So I am enthusiastic about all of them for different reasons. from Tony Mola who has one of the best bands in Salvador Bahia and gives us what he calls traditional Orisha rhythms in a pop sound, Marlui Miranda who is one of Brasil's main ethnomusicologists dealing with the Amazonian tribes, William Cepeda who is 9th generation musician from Puerto Rico and the Familia Cepeda.Working with Joyce on Astronauta was pure pleasure, getting Mulgrew Miller and Joe Lavano to understand what we were trying to do by adding a jazzy feel to Brasilian music and then having it groove so well was a joy to be part of. Tony Martinez who is from Camaguay, Cuba brings a working unit which consits of some of the top young Cuban jazz players - Gonzalo Rublacaba, Julio Padron, Julio Barreto, Miguel "Anga" Diaz etc. Working with Rodolfo Stroeter from Pau Brasil is another pleasure becuase he is producing some of the finest contemporary music coming currently out of Brasil. Rodolfo's production of Gilberto Gil O Sol De Oslo is being hailed by many critics as one of Gil's finest recordings. Representing Dissidenten "the godfathers of World Beat" (according to Rolling Stone) from Europe always keeps us on our toes, because we never now what will come across from this very innovative band of 20 years. Having dinner a few weeks back with Tony Mola from Bahia and William Cepeda from Puerto Rico is a great story to tell.Each one was playing his music and explaining the rhythms they use to the other. As it turned out the rhythms from each country are named from the same Orisha's and are very similiar with only slight modifications. The joy on their faces knowing that they have common roots makes all this record industry madness all worth while. Paula: Your two boxed sets about Cuband and Brasilian music respectively are particularly intriguing. What went into the creation of each of those? Jack: I can write a book about what went into each of the compilations Brasil: A Century of Song and Cuba: I Am Time. Each production was over 2 years in listening alone.I traveled to Brasil(which I had been traveling to since 1977 on a regular basis) and Cuba many times during these productions. I can honestly say I probably listened to over 5000 CD's, LP's, 78's, to figure out what I wanted to license. The licensing part is another book. Paula: What does the future of Blue Jackel hold? Jack: Now that we have signed artists on Blue Jackel the future really is helping the artists document their dreams. Sometime at the end of this year or maybe the begining of next year there will be a 20CD boxed set of Brasil music. Its hard to give answers to questions like this. The new Tony Martinez "Maferefun" took us a year just to set up and record. Besides doing the recordings we then have to figure out how to market the releases properly. We have our hands full but we are not bored.
Images courtesy of Blue Jackel.