Zaghareed: Music from the Palestinian Holy Land (Sounds True)is an album like no other. Zaghareed translated into English means "ululations," the cries of joy at every traditional Palestinain wedding. This album documents the music that underlies these weddings, in a modern interpretation. This is music that is not often documented because the musicians can't get visas to travel. El-Funoun (pictured above) is the arts group behind Zaghareed, a popular band of singers, dancers, and musicians founded in 1979


Celtic Solstice (Living Music/Windham Hill/BMG) is a unique recording by Paul Winter and Friends (who include fiddler Eileen Ivers, piper Jerry O'Sullivan, and other noted musicians). The album came about from yearly "Celtic Solstice" events held yearly in June in New York's Cathedral of St. John the Divine during the summer solstice. As a result, Celtic Solstice is an album mixing Irish and American musicians and influences. Six original pieces are interspersed with traditional Celtic songs.


Canada is a beautiful country with a lot of traditional musical genres: celtic, French Canadaian, native, to name only a few. The album Beautiful Canada (Capcan) does not exemplify ethnic music though, but rather 28 original compositions written by Bob and Helen Roberts of Vancouver, about various aspects of life in Canada. There is a definite big band feel here, combined with the vocal talents of Peter Chipman and Dal Richards, and Lynne McNeil.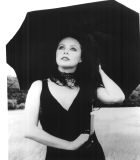 Two new releases recently crossed my desk which aren't really World Music, but are worthy of mentionning just the same. Classical violin superstar Vannessa-Mae puts her unique touch on Vivaldi's Four Seasons (Angel/EMI). Although Vivaldi's masterpiece is probably the most recorded classical piece in history, Vanessa-Mae presents it in an exciting, original manner and is definitely a worthy addition to any serious classical fan. On the operatic side of things, Sarah Brightman's new CD eden (Angel/EMI) cioincides with her new PBS specials, and features a wide variety of songs, from Celtic traditional, to the Kansas classic hit "Dust in the Wind," spanning four languages: English, Spanish, Italian, and French.