Ma Ya is the third release on the Putumayo Artists label, and the latest from Malian guitarist Habib Koité and his band Bamada. The album has already hit number one on the European World Music Chart for a new record of three months, and Canadians might be familiar with Koité's name from his appearance last year at the Francofolies festival in Quebec. Koité plays his guitar in a style reminiscent of the African kora, with a basic musical style of danssa, a rhythm from the Khasso region.


In celebration of Black History Month, Putumayo Presents released From Mali to Memphis last month. It is the third release in the Odyssey series and features both West African music and American blues. The artists include a who's who of each genre, such as John Lee Hooker, Muddy Waters, and Taj Mahal on the blues side of things, and Rokia Traore, Baba Djan, and the above-reviewed Habib Koité from Africa.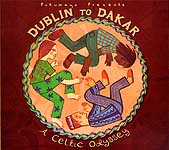 St. Paddy's Day is almost here and in anticipation Putumayo recently released the fourth album in the Odyssey series, Dublin to Dakar. The songs combine traditional Celtic sounds with influences from around the world. There are collaborations between Celtic and World Music artists from other coutnries, such as African superstar Youssou N'Dour teaming up with French Celtic harpist Baka Beyond. There are also featured artists who performin the Celtic style but who are not from Ireland or Canada's East Coast, like the Modena City Ramblers, Italy's answer to The Pogues. This release is both adventurous and eclectic.


Rasputin on Broadway is a famous Vancouver restaurant, where diners visit not only to eat, but to listen to live performances of Russian, Romanian, Hungarian, and Gypsy songs performed by talented local artists. The Best Hits from Rasputin on Broadway (Capcan Music) showcases some of the more popular songs from the restaurant, like "Laura's Theme" from Dr. Zhivago, and a rather spirited medley of Fiddler on the Roof material.