JPP is a very well known fiddle band -- if you live in Finland, that is. String Tease (NorthSide) is the band's first new recording in four years, and features a core band of four fiddles, double bass, and harmonium, as well as the "JPP String Orchestra" which provides seven more fiddles. Both traditional and original compositions grace the album, whichi s very upbeat and very tightly arranged.


Sanna Kurki-Suonio is best known as a vocalist from Hedningarna, a superband of Sweden. Ms. Kurki-Suonio hail from Finald, however, and Musta (NorthSide) is her solo project. Musta (which is Finnish for "black") is anything but -- her vocals are bright and clear above the very modern instrumental arrangements, falling neatly into the Scandinavian progressive folk movement.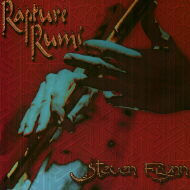 Rapture Rumi is a highly Middle Eastern but essentially World Beat recording by American musician Stevn Flynn. Released on Flynn's own production company Visionary Dance Productions, the instruments include violin, didgeridoo, tar, dumbek, and ney (Middle Eastern reed flute). Turkey and Persia meets the West in the nine diverse pieces, which was priginally composed to accompany a dance performance choreographed by Robert Davidson, based on the life of Jalaluddin Rumi, a 13th century mystic poet.