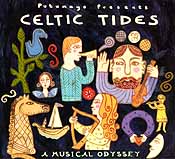 Celtic Tides is the latest in the series of World Music samplers from Putumayo. The CD features Celtic musicians from around the world like fiddle whiz Ashley MacIssac from Canada, singer/songwriter Dougie MacLean from Scotland, and the Irish Celtic supergroup Clannad. Not only is this CD a true musical odyssey into a musical genre which has become very popular over the last few years thanks to the success of Riverdance and Titanic soundtrack, but also marks Putumayo's foray into the world of video. There is an accompanying video featuring most of the artists on the CD, to be broadcast on the CBC network in Canada and on Bravo in the USA.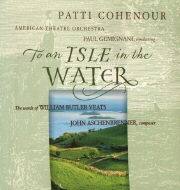 Patti Cohenour is a Broadway star with an incredible voice. She's been nominated for Tony and Drama Desk awards thanks to her roles in The Mystery of Edwin Drood. To An Isle in the Water is an ambitious project, in which Cohenour sings the words of the Nobel Laureate poet William Butler Yeats, set to original orchestral music composed by John Aschenbrenner. The 18 poems flow into each other, interconnected by the theme of love -- once again, Cohenour calls upon her acting skills, potraying a woman looking back on her long-over love affair with a poet. This is definitely one of the most unique and original albums I have heard this year, and you can find out more about the project at the Isle Web site.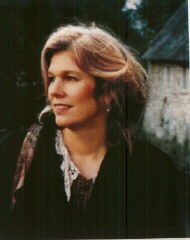 If it was safe to judsge a CD by its packaging, I would immediately tell you Serah's Senegal Moon is a lush landscape of sound, a musical journey from North America to Africa, an adventure you will not soon forget. But the intricate photography and gold-embossed designs on the sleeve are only the icing on the cake. Senegal Moon, on the Great Northern Arts label is New Age meets World meets pop. With masterful instrumentation and musicianship, not to mention Serah's airy, ethereal voice, an atmosphere of mystery and fantasy is created. Most of the lyrics are in English, but underscored by back-up vocals in an authentic African dialect. Senegal Moon took a lot of effort to create, and was well worth it.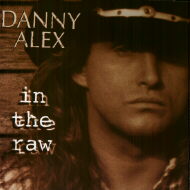 In the Raw is a good title for country newcomer Danny Alex's debut release. His twangless vocals are convincingly rough and, well, raw, perfectly matching his energetic music and delivery. The Calgary, Alberta resident is an avid songwriter but also convincingly performs the work of other songwriters. If passion counts for anything in the music business, then Danny Alex has a bright future ahead of him.