The Burning Bush is a leading music ensemble from Britain, known for performing music from both Ashkenzic and Sephardic traditions. Klezmer & Hassidic Music is a diverse collection of traditional Klezmer dances like bulgars and freylekhs, as well as Hassidic niggunim (tunes; melodies). The seventeen songs here are quick, energetic, and provide a good cross-section of these musical genres.


Best of Yiddish Songs and Klezmer Music is a sampling of some of the best names in Jewish music, like the Burning Bush (see above) and Yaacov Shapiro. Klezmer music and Yiddish folk songs are interspersed, making for a very interesting collection of songs.


Eva Volitzer is a Sephardic vocalist who performs in the language of Ladino -- sort of a mix of Spanish and Hebrew. Her soaring vocals tackle 22 songs on the album Jewish Sephardic Songs in Ladino. Mostly very short pieces, a very comprehensive selection shows off Volitzer's range, as well as that of the genre.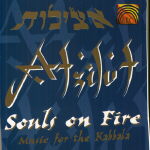 Kabbala is the Jewish mystical tradition. Its associated music has a spiritually poetic element, with chants, and a solemn feel. Souls On Fire: Music for the Kabbala takes these cantorial chants and places them amongst Middle Eastern and Balkan rhythmic patterns, with instrumentation that spans the globe: didgeridoo, tablas, and oud. People who like the recent wave of chant albums from other religious traditions will welcome this album. All of the above albums are available from ARC Music.