Interview: Hinewehi Mohi from Oceania
By Matt Forss Matt Forss sits down with New Zealand's vocalist, Hinewehi Mohi, from the group Oceania.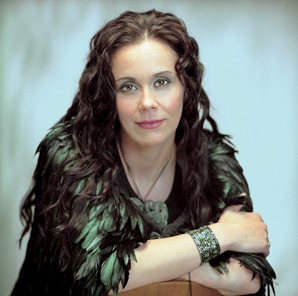 How and when did you become interested in music?
Maori is the indigenous culture of New Zealand and all protocols, rituals and customs include rhythm and music. As I grew older I developed the performance elements that come with that music tradition, and in particular developed my singing voice. Do you have any formal musical training?
I went to a Maori girl's boarding school through my early teens where we had a form of choir practice but not in a formal context as such. What types of traditional music styles and instrumentation exist in New Zealand?
There are over 40 traditional Maori instruments ranging from soft percussion to flutes. We also perform traditional chants that have unique rhythms and performance style. These chants hold the old poetry of our ancestors telling us of historical events of significance, genealogy and geographical points of interest pertaining to tribal groups. Your 1999 album, Oceania, was very inspirational for me as an introduction into 'world music'. Part of it, I believe, comes from your music video for 'Kotahitanga' still playing on LinkTV. How do you feel about your music being accepted by a global audience?
I am stunned that eight years after its first release that this music is still being aired. It is very satisfying that Maori music can have a positive impact on a world stage. As indigenous people we do suffer in modern society as a result of colonisation, so it is a positive thing to see our culture being so well received overseas. In 2002, you released Oceania II. Can you please describe how it differs or resembles Oceania?
Oceania II was planned as a chill out album where the voice comes to the fore and a sense of the ethereal sweeps the listener away. It fulfilled the brief pretty well but hasn't proven as successful as the first album. Have you thought about touring in the U.S.?
I have performed in the States in 2000. I have a husband and family, and one child with special needs so the ability to tour extensively has never appealed to me. There are some plans for me to perform in San Francisco late next year as part of a NZ promotional event. Do you have another album in the works?
I am currently in the beginning stages of an album production. What are your musical plans for the future?
I'd like to continue to perform overseas promoting NZ and recording. Family and work commitments (I am a television producer) will dictate how that pans out. Is there any musician or band you would like to collaborate with?
I'd like to sing with an Italian opera star where s/he sings in Italian and I sing in Maori. What types of music do you listen to?
I love old school music – from the 40's-50's; big band stuff with big voices. I try to listen to a wide range, but I'm drawn to the female voice, particularly African American R&B sounds and unique and distinctive voices like that of Barbra Streisand.
---

Matthew J. Forss graduated from Lakeland College-Sheboygan, Wisconsin in 2005 with a B.A. in Biology. He will graduate with an M.Sc. in Exercise Science in May 2007 from Northern Michigan University-Marquette, Michigan. He is pursuing an M.F.A. in Creative Writing at Goddard College-Plainfield, VT. Since 1998, he has collected numerous musical instruments and CDs from around the world. In 2000, he wrote a paper on Mongolian ethnomusicology, entitled: How Does Music Play An Important Role In The Life And Culture Of Mongolia? Currently, he has collected over 400 CDs that represent over 180 different countries. His general interests include ethnomusicology journalism and researching the traditional/contemporary ethnic music of various cultures from around the world. His specific, geographic areas of study include the traditional and popular music from Central Eurasia (especially Mongolia, Uzbekistan and Azerbaijan), North Africa (especially Mali, Mauritania, Western Sahara, Libya and Morocco), Scandinavia and Pacific Islands (especially New Zealand, Solomon Islands and New Caledonia). He also enjoys studying Uzbek, Tamasheq, and German linguistics. In November of 2000, he accepted the position of writing World Music CD reviews for this site.