Putumayo World Music is responsible for creating a wide variety of reasonably-priced, attractively packaged World Music samplers with broad appeal. The expert team at the label pick selections from both established and emerging artists and collect them on a release themed after either a particular country or genre. Here is a look at some of Putumayo's most recent releases.


Gardens of Eden is a chance for the listener to be transported to some of the World's most beautiful places, places where one can simply hide away from the rest of the World surrounded by natural beauty. The rainforests of Brazil, the beaches of Hawaii, the South Pacific and other exotic getaways are represented by many songs that have not even been heard outside of their native homelands.


Gypsy music combines aspects of Eastern European, particularly Hungarian, influences as well as Spanish flamenco and French jazz. Gypsy Caravan will take you along for a ride through the many Gypsy cultural influences and locations, including tracks from Theirry Robin (France), Miguel Angel Cortés (Spain) and Ando Drom (Hungary). The music is danceable and intense.


The food isn't the only thing spicy in Louisiana. Just take a listen to the music! Cajun features the best music from the Acadian tradition, the French-speaking ancestors originally from Nova Scotia, Canada, who eventually settled in Lousiana. The music has transformed into something completely unique to this part of the world, complete with enough gumbo and crawfish to go around. Originally intended as a follow-up to 1999's Zydeco, which became one of Putumayo's best-selling albums of all time, Cajun features artists like David Doucet, Steve Riley and the Playboys and the Jambalaya Cajun Band (what an approproate name!). Definitely recommended to get your spirits up and toes tapping.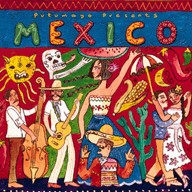 Just in time for Cinco de Mayo comes Mexico, a collection of music that spans the country. Well-known acts such as Lhasa and Los Lobos appear alongside up and comers Lila Downs and Los Hermanos Rios. Fans of Los Lobos should take note: the album features the first ever song composed by the band. There are several other tracks on Mexico that are not readily available outside the country.


Get ready for a summertime Reggae-fest. Jamaica is the place to hear all-time greats Peter Tosh, Black Uhuru and Jimmy Cliff together on the same album. Reggae is, of course, the folk music of the Caribbean, with African roots, a dash of British, Irish and Spanish influences and a heavy backbone of American pop and soul.