One Truth - Omar Faruk Tekbilek (World Class/Hearts of Space): Turkish musician Tekbilek combines Middle eastern instruments and rhythms with devotional songs.

House Made of Dawn - Coyote Oldman (Hearts of Space): Michael Graham Allen and Barry Stramp, also known as Coyote Allen, present their own unique interpretation of Native American flute music.

Earth Prayer - Bill Douglas (Hearts of Space): Known for his Celtic stylings, Douglas employs the Ars Nova Singers to create music of chorus, woodwinds, percussion, and piano with lyrics inspiration from English classical poets.

Sanctity - Isabelle Pascale Granet (Liquid Light): If you like Enigma, you'll like this one. Parisian-born Granet combine spoken, chanted poetry with ancient music, both electronic and acoustic.

Casa de la Trova (Erato Detour/Atlantic): Every town in Cuba has a clubhouse where local poets come to sing serenades andpopular songs. This place is known as the "Casa de la Trove," and on the album of the same name is a collection of "trovadores" (troubadours, local poets), featuring lyrics and simple, "peasant" instrumentation.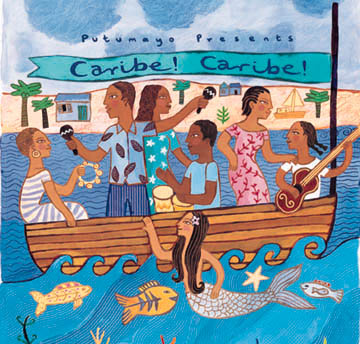 Caribe! Caribe! (Putumayo Presents): Reggae, soca, zouk, compas, biguine . . . on Caribe! Caribe! you can find all of these Caribbean musical styles amongst the songs, many of which are not available outside the region.

Live at Red Rocks - Boukman Eksperyans (Tuff Gong/WEA): This Haitian band takes their name from a Vodou preist who helped unify the Haitian slaves. Recorded during the 1998 Reggae at Red Rocks Festival, this album is a chance to experience Vodou jazz, Zairian soukous and reggae -- African rhythms unite with Caribbean melodies. Isis - The Original Womb-Man - Sister Carol (Tuff Gong/WEA): A pioner for women in reggae, singer/Songwriter Sister Carol is back with her first album in two years. Living Dub Volume 4 - Burning Spear (Heartbeat/Rounder): A dub master, Grammy-nominated Burning Spear takes his music to a new level. Voice and musical arrangements are juxtaposed so the listener can concentrate on each aspect of the music. Anthology of World Music: The Music of Vietnam & Anthology of World Music: The Music of Laos (Rounder): These two releases showcase traditional music from their respective countries, both in terms of instruments and arrangments. Extensive liner notes feature descriptions and explanations of instruments, musical and rhythmic patterns, as well as the history of music in Vietnam (whichis a double CD) and Laos.

Colors: Contemporary World Music (Amiata Records): This is an excellent sampler of contemporary world music from Scotland, Cuba, France, Spain, Israel, and several other regions. Just for the vareity alone this album is worth checking out.

African Angels (Amiata Records): An African music compilation with such artists as Papa Wemba, Sali Sidibe, and Ayub Oganda.

Silan - Yair Dalal and the Al Ol Ensemble (Amiata Records): Arabic and Jewish music combined? Is there such a thing? Thanks to Yair Dalal, there is. He is a leading figure in Israeli ethnic music and combines the traditional and modern, eastern and western, and Jewish and Arabic traditions. With oud, sitar, guitar, violin, clarinet, tabla, and African and Middle Eastern percussion, Dalal and his band of musicians aim to abolish the ideological barriers between Jews and Arabs.
Afterglow - Michael Hoppé, Martin Tillman, and Tim Wheater (Hearts of Space): Tillman is a cellist, Wheater is a flautist, and Hoppé a keyboardist and composer. Together these improvisors create a rich and inspiring texture of musical layers.

The Upsetter Shop, Volume 2: 1969 to 1973 - Lee "Scratch" Perry and the Upsetters (Heartbeat/Rounder): Lee "Scratch" Perry is one of the most important porducers and artists to come out of Jamaica, an influence to may top stars. This album traces his formative years as a producer during the exciting late 60's Reggae scene in Jamaica.