Concert Review
International Performing Arts Series – Northern Michigan University-Marquette, MI
Festival of the Desert
Featuring Mamadou Diabate and Tinariwen
Nov. 15, 2007
By Matt Forss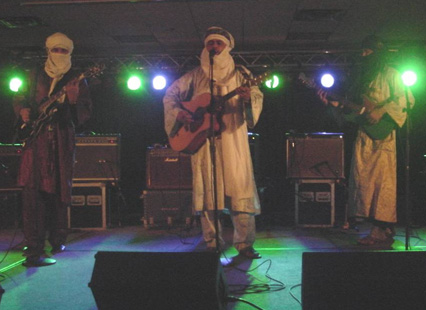 After my interview with Tinariwen in July 2005, I had never expected them to actually perform in the Midwest, USA. My ears were tuned into the realistic possibility of seeing them perform live.
The concert venue was at Northern Michigan University in Marquette, Michigan. The performance was to be held in the University Center in the banquet rooms. The room had a dance floor and rows of chairs to accommodate the fans. I would estimate seating availability at 400 or more. I had contacted Dr. Louise M. Bourgault, a professor of communication and performance studies, and the coordinator for the International Performing Arts series for information on the concert in the weeks leading up to the performance.
About an hour before the venue heated up to the sounds of the Sahara, I managed to briefly observe the headliner, Mali's Mamadou Diabate, warm up his 21-stringed kora. I think the rather cold weather outside was affecting the kora's sound and Mamadou even commented on the cold affecting his finger playing. Luckily, the warmth of the stage lights served as a solution to the problem. An interesting observation occurred during Mamadou's kora practice, when his cell phone went off. This reminded me of how we are never too far from modern technology, even while listening to the sounds of an ancient gourd instrument.
The concert was underway at 7:30 PM after Dr. Bourgault's short introduction. Then, Mamadou began playing and sat on an upside down plastic crate with a towel on it for comfort. He played his kora with fast fingerings and slower movements, as well. Mamadou's vocalizations were nonexistent through the first four songs. He broke into song on the fifth song. He chuckled briefly, probably thinking we had no idea what he was saying. Whatever he was singing about, the audience definitely liked it. In one instance, a young child refused her mother's restraints and even tried to get up on stage with him. The music was appropriate for all ages and the room was probably occupied by 200 or so fans. Mamadou's facial expressions seemed to match his finger mastery. It looked like a combination of pain and utter joy. I am sure it was the latter. After about 40 minutes, Mamadou concluded his set with the sixth song. He garnered a standing ovation from the crowd and an intermission followed.
The next musical group, Tinariwen, was sure to fire up the crowd and seemingly melt away the season's first snowfall. After Dr. Bourgault's introduction of the group, four of the members calmly took the stage. The members were: Alhassane Ag Touhami on lead guitar, Eyadou Ag Leche on bass, Said Ag Ayad on djembe, Abdallah Ag Lamida on rhythm guitar and Abdallah Ag Alhousseyni joined in after the first song, "Chet Boghassa". The second song was "Afours, Afours", from their debut album, The Radio Tisdas Sessions (2000). Abdallah Ag Alhousseyni danced for most of the show and really got the audience on their feet. Songs three and four were not discernable to me, but the audience was now fully enthralled and entranced with their music. Song five was "Chatma", off their 2003 album, Amassakoul. This brought out the best interplay between the bass guitar and djembe drum. Song six was reminiscent of "Amidinin", from the same album. The crowd's energy became lively with the seventh song. It was evident that many people were dancing on the dance floor and near their chairs. Though, some people sitting in the back may have had a hard time seeing Tinariwen, at least their sounds could be heard throughout the entire room. Their new album, Aman Iman (2007), was also the basis of more song material. Song eight was titled "Toumast". This was followed by what I believed to be "Ahimana". This ended with a standout djembe performance. It had appeared the set was over, until Dr. Bourgault took the stage to announce a short intermission and tease us with a possible duet with Tinariwen and Mamadou Diabate. The crowd was obviously yearning for more of this Saharan musical stew.
It was about 10:00 PM when the second set of music from Tinariwen was performed. Little did I know it would be about 11:00 PM before this musical adventure came to an end. Before thinking about the finale, I couldn't wait for another intense set of music. After perusing the merchandise table, I noticed an array of shirts, CD's and Festival in the Desert DVD's available for purchase. I quickly returned to the concert for more music. The next set included "Mano Dayak" from Aman Iman. Song eleven was unknown to me, but I recognized song twelve, which was "Tamatant Tilay" from Aman Iman. Song thirteen was probably a song off their debut album. Song fourteen was "Eh Massina Sintadoben" from Amassakoul. This was followed by the infectious rap tune, "Arawan". Song sixteen featured the bass guitar in the spotlight for this song. "Matadjem Yinmixan" was song number seventeen. Song eighteen reminded me of "Cler Achel". This was the end of the set, as the musicians thanked the audience with their arms and hand gestures. They truly enjoyed their time. The band exited the stage and we thought that was the end of the concert. However, the crowd's intense clapping and hollering may have played a role in bringing out Alhassane and Mamadou for a duet. They played the song "Wartila" and waved to the audience. They also shook each other's hands, as a form of musical solidarity, which was a fitting end to the evening. However, Tinariwen came out yet again to perform one last song for us.
As the crowd departed, I took one more glance at the merchandise table and purchased a shirt. I was not alone, as their merchandise was selling fast. In all, 300+ people attended the concert, on an evening where other school events and activities were also taking place. One thing is for sure, Tinariwen and Mamadou Diabate brought their music to the right place. It was an honor to be in attendance at one of the hottest concerts I have ever been to. I look forward to future wanderings in the desert with my friends, Tinariwen and Mamadou Diabate!
---

Matthew J. Forss graduated from Lakeland College-Sheboygan, Wisconsin in 2005 with a B.A. in Biology. He will graduate with an M.Sc. in Exercise Science in May 2007 from Northern Michigan University-Marquette, Michigan. He is pursuing an M.F.A. in Creative Writing at Goddard College-Plainfield, VT. Since 1998, he has collected numerous musical instruments and CDs from around the world. In 2000, he wrote a paper on Mongolian ethnomusicology, entitled: How Does Music Play An Important Role In The Life And Culture Of Mongolia? Currently, he has collected over 400 CDs that represent over 180 different countries. His general interests include ethnomusicology journalism and researching the traditional/contemporary ethnic music of various cultures from around the world. His specific, geographic areas of study include the traditional and popular music from Central Eurasia (especially Mongolia, Uzbekistan and Azerbaijan), North Africa (especially Mali, Mauritania, Western Sahara, Libya and Morocco), Scandinavia and Pacific Islands (especially New Zealand, Solomon Islands and New Caledonia). He also enjoys studying Uzbek, Tamasheq, and German linguistics. In November of 2000, he accepted the position of writing World Music CD reviews for this site.