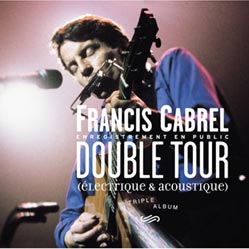 Born: November 23, 1953

Background: One of France's best known troubadours, Cabrel is a contemporary performer of chanson. His earlier material is acoustic and folky in focus, with poetic lyrics that have defined his musical career since its beginnings in the late seventies with the song "Petite Marie," a song about his wife. As the years progressed, so did his music, which started to draw more and more on different musical influences, particularly jazz and blues. Cabrel is involved with numerous charities such as Sol En Si, which supports hospices for children with AIDS and L'Associate Eva, offering help for street children in Latin America. Selected Discography: Double Tour (Sony Music France 2000) - A triple-live album featuring acoustic and electric performances of songs from throughout his career.
Hors-Saison (Chandelle/Sony Music France 1999) - A mature, intellectual album that combines influences from jazz, blues, rock and folk.
Sarbacane (CBS, Chandelle Music 1989) - This album spawned many contemporary Cabrel classics such as the title track, "Animal" and "C'est Ecrit."
Cabrel Public (CBS Disques 1986) - A live album featuring the best of his earlier material -- a great place to start. Notable Web Sites Chemins de Traverse - His official site. A very intricate site that includes a comprehensive discography with audio, interviews, photos and lots of multimedia.
Hommage à Francis Cabrel - A fan site with a biography, photos, articles, list of television appearances and a mailing list.