Find resources for World Music from a variety of countries and cultures here. Other fans of World Music are waiting to chat right now.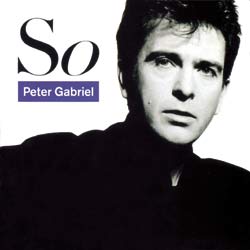 Many people associate the name Peter Gabriel with Genesis, the progressive and classic rock band whose hayday was in the 1970's. Always known for extravagance, Gabriel would often appear on stage in elaborate costumes and makeup. After he embarked on a solo career in 1975, Genesis was never the same, taking a more commercial route.

Even on his own, Gabriel remained artistic and eccentric. Contrast this with the solo career of another prominent Genesis man, Phil Collins, who topped the charts in the 80's and 90's with a string of commercial pop. Gabriel's lyrics are consistently artful and he incorporates his talent for writing and video making in his work. Gabriel was one of the first artists to exploit the emerging music video medium in the 80's for songs like "Shock the Monkey" and "Games Without Frontiers." But it was the album So, produced by Daniel Lanois in 1987 which brought Gabriel into the mainstream. Who can forget the song "Sledgehammer," with its dancing fruit and headless chickens? And even more, it was a very catchy tune, along with "In Your Eyes," which has become a Gabriel classic. Gabriel has also nurtured a long-term passion for music from other cultures. In 1980 he founded WOMAD (World of Music, Art and Dance) along with several other artists. WOMAD exists to promote the education of World cultures, and sponsors tours, festivals, and workshops. Real World Studios, which Gabriel opened also in the 80's, is located in Wiltshire and is a popular recording venue for artists from around the globe. So much creativity and global sounds came from the place, that Real World emerged as a label featuring the music of Afro Celt Sound System, Beautiful South, and Nusrat Fateh Ali Khan. Peter Gabriel has also been very involved with social issues on a global level, including the environment and human rights. Two organizations with which he has been very involved are Amnesty International and Greenpeace. His song "Biko," about South African activist Steven Biko, was the first pop song to discuss apartheid. As well, he actively took part in the 1988-1990 series of concerts to honor Nelson Mandela. Gabriel has also dabbled in the areas of movie soundtracks (for Martin Scorsese's Last Temptation of Christ) and multimedia. His Secret World tour in 1993 blended music with theatre, as he collaborated with Canadian director/producer Robert LePage. The tour spawned a double live album and video. In addition to his landmark album So, I highly recommend Shaking the Tree, a collection of his greatest songs spanning from the 1970's to early 90's. The title track is one which is known for performing with Senegalese star Youssou N'Dour.
PeterGabriel.com was a source for this article.