The World Music CD Listener's Guide
by Howard J. Blumenthal
Billboard Books
$14.95 US
ISBN 0-8230-7663-6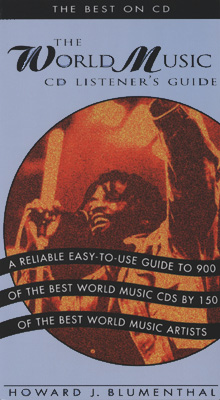 The World Music CD Listener's Guide is the latest in a series from Billboard Books an dnoted music writer Howard J. Blumenthal. Blumenthal is best-known as the creator of the tv series Where int he World is Carmen Sandiego?, but he is also wirtten extensively about music of all genres for over 20 years. The book is small, but packed with information about music from nearly 100 countries, 150 artists, and 450 album reviews of the best World Music CDs (plus an additional 450 reviews). Blumenthal wrote every review in the book -- his stereo must go non-stop -- and each review contains explanations of instruments and cultural traditions that might be unfamiliar to the listener. The artists that appear in the book are those that have albums readily available in the United States and are most frequently listed among the top picks of World Music fans: Tito Puente, Bob Marley, Ravi Shankar, Nusrat Fateh Ali Khan, to name only a few. Plus, ever CD reviewed contains a cross-reference -- a "link" -- to a related artist and/or recording. Other books in the "Best of CD Series" include The Jazz CD Listener's Guide and the Classical CD Listener's Guide.